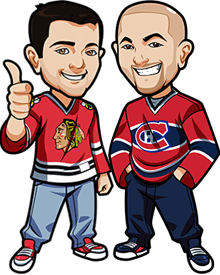 Written by Graeme & Scott on Tuesday, October 1st, 2013
Follow @BetNHL
It is finally here!!!!! The NHL 2013/2014 season kicks off tonight!
And boy, we can't wait. We had an absolutely killer season last year, making over 50 units and running so hot some of the rinks were starting to melt. We're hoping to run so hot this year that Sidney Crosby goes up in a ball of flames!
So for all the new visitors – here's how it goes. Graeme is the Habs fan, Scott is the Blackhawks fan, and we've got years of betting experience. We get together every day, and go over the lines that day, and come up with the 3 best betting tips of the day. The tips are a mix of opinion and statistics. Graeme is a bit of a computer geek who has created computer programs to predict sports like the NBA and WNBA, and we use his NHL model to give us a baseline.
We provide 3 tips per day. The majority of the time, the tips will be ones you can bet anywhere – such as the over/under, and who will win a game, or the handicap. However other times we will recommend bets that you can only bet at certain places, such as a goal scored in the first 10 minutes, or the 2nd period being the highest scoring period.
To get prepared for the NHL season – well we get a lot of Americans, so we'll split it up:
Americans: Have an account at Bovada and BetOnline..
Everyone Else: Make sure you sign up at the following sportsbooks: Bet365 (Americans: We recommend http://www.bovada.lv, Sports Interaction and
Sorry for jabbering on – we're just excited that the NHL season is beginning!
Let's get going with the NHL Betting Tips for Tuesday, October 1st 2013:
Habs vs Leafs: Goal Before 9:30
What better way to start off the NHL season than with an intense match-up between the Toronto Maple Leafs, and the Montreal Canadiens? These two teams kicked off last season, with a goal just 5 minutes in. Both the Canadiens and the Leafs are notorious for fast and furious games – especially from the beginning.
Last season they met up 4 times, and 3 of the games had goals before the 9:30 mark. We're expecting the same to happen in this game, with a very early goal and most likely some powerplays early on. These two teams do like to beat the crap out each other!
The odds are 1.76 which is surprisingly nice – previous odds for these games were getting as low as 1.65-1.7 for this bet. You will be able to bet this at http://www.Bovada.lv for Americans and http://www.Bodog.eu for everyone else..
Jets vs Oilers: Oilers To Win
Unfortunately the odds on this one are low at 1.68 – but with it being opening day, we're looking to play it a bit safe because even with an actual pre-season this time around, there's still plenty of chances for upsets.
The Jets didn't look good during the pre-season with only 1 win out of 8. Edmonton, despite a few injuries showed that they are a bit deeper this year and looked good in the pre-season. Some nice acquisitions like Perron and Ference should be good. Actually
Ference was named as captain which is huge – a change like that is big and can give the Oilers a lot of positive energy going into the season.
While we'd like to go with the Oilers handicap, we're playing it safe with the Oilers at 1.66 – available at http://www.5Dimes.eu for Americans(Need to register to see lines) and and http://www.Bet365.com for everyone else.
Grand Salami: Over 16.5
In this bet, we're saying that there will be a minimum of 17 goals scored tonight. Odds are 1.86 as of this writing at
Habs vs Leafs should have goals written all over it. With Doug Murray out for Montreal that's a bad hole in the defense that the Leafs can take advantage of. Clarkson being out for the Leafs is a bit of a blow, but I don't see that affecting their goals in this game.
Oilers and Jets aren't exactly the most watertight defenses, and they could go over the Salami all by themselves! With Blackhawks vs Capitals you have some of the best offensive players in the NHL on display.
Bet this one at http://www.5Dimes.eu(Need to register to see lines).
Follow @BetNHL
BetNHL.ca » Tonights Tips »