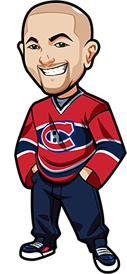 Written by Graeme on Friday, October 20th, 2017
Follow @BetNHL
We took the day off from our tips yesterday, although my OHL system won and went 7-1 for the season for anyone who follows that. Good start for that although a lot of low priced games.
It was for the best that we stayed away as a lot of games we were concerned about we were right to be. The Flyers losing to the Predators for example, or the Jackets losing to Tampa.
The Oilers got a big win in overtime against the Blackhawks. Wonder if they can ride that momentum now.
Quieter night tonight with 6 games which is my personal favourite amount of games. Allows us to fully analyze every game but NOT overthink it.
I REALLY wanted to take the Habs tonight. Watching their last game I just saw enough positives to where I feel "Yep, they're going to turn the corner" and I think they beat the Ducks tonight. However considering their performances this season, 2.00 odds is just not enough for me.
With that let's get to the betting tips:
Capitals vs Red Wings Betting Tips:
Last Friday, the Capitals were in a similar position. 2 game losing streak and on the road.
I'd said last week that I really wanted to take the Capitals in that game. They're a team that had never lost more than 2 in a row last season, and the prior season only lost 3 or more in a row once.
I regretted not making that one a tip last week – the Devils performances were good enough to scare me away.
The Capitals are one of those teams who – how can I put this – it doesn't really matter who their opposition are for the most part. They play their game and they win. Simple as that.
Wings actually beat the Capitals last season in their most recent game. However I have to think the Caps come out here and do the business like only they can.
In saying that it's hard to write off Detroit. They had a couple of tough losses against the Leafs and Wings but they've shown a lot of fight in every game.
But I have to believe the Capitals win this in a controlling fashion. The odds for OT/SO are good enough if you want that but I'll go with the extra risk of Capitals in regulation.
Canada: 2.25 Odds at Bet365 (Americans: We recommend http://www.bovada.lv.
USA: +115 Odds at Bovada.
Everyone Else: 2.25 Odds at Bet365 (Americans: We recommend http://www.bovada.lv.
Sharks vs Devils Betting Tips:
This ones the opposite of the Habs game – the Devils odds are so nice that I can't help but take them.
Sharks are 2-3 this season after 5 home games and it's their first game on the road. The yweren't amazing on the road last season at 20-18-3. Their only 2 wins thus far are over the Sabres and Habs.
The Devils are currently top of the Metro and deserve to be there with some excellent performances. This is a team thats really enjoying their hockey. Kinkaid is in net for the Devils.
It has its issues for sure. The Sharks D will be a tough matchup for the Devils offense and could neuteur them. Devils on a B2B after OT so their fast offense, already possibly struggling against the mobile Sharks, could have a hard night. And I must admit I'm a tad concerned about the odds being so high. Like Vegas just inviting me to bet on them.
Oh well – "You Miss 100% of the Shots You Don't Take – Wayne Gretzky" – Michael Scott.
Devils to win incl OT/SO
Canada: 2.15 Odds at Sports Interaction + $20 Free Money Line Bet. Good night to use the ML bet.
USA: +110 Odds at Bovada.
Everyone Else: 2.00 Odds at Bet365 (Americans: We recommend http://www.bovada.lv.
OHL / WHL / AHL / KHL Betting Tips:
(All below systems are based mainly on mathematics and statistics with very little human input and are deemed experimental. )
OHL Betting Tips (7-1, +3.6u): This one feels a bit risky – not too confident on Sarnia Sting so I'd advise only a half unit bet. Double on Kitchener Rangers/Sarnia Sting at 2.23 odds.
WHL Betting Tips (2-5, -2.48u): Medicine Hat Tigers in regulation 1.65 odds. Portland Winterhawks in regulation 1.80 odds. Portland/Kelowna over 7.5 goals 1.85 odds.
KHL Betting Tips (13-8, +3.70u): CSKA -1-5 at 2.05 odds (takes place on 21st).
Follow @BetNHL
BetNHL.ca » Tonights Tips »