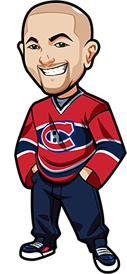 Written by Graeme on Sunday, October 20th, 2019
Follow @BetNHL
A 1-2 night last night.
Our win was with the Arizona Coyotes over the Ottawa Senators. That's one of those wins that don't really feel like a win because I'm left thinking "I should have bet more units". Raanta didn't do too shabby and it was a nice and easy win for Arizona.
We lost with Tampa. What a team they aren't. Complete lack of chemistry and zero defense. Vasy had a BRUTAL game as well. In saying that their offense looked good and Francouz had a great night. Props to him. Will be interesting seeing the next Tampa lines. They've got the Penguins next and if they are decent underdogs, there might be value there.
Lost with Preds against Panthers. Felt Preds were a bit unlucky there – Montembeault pulled off some great saves. Still a bit disappointed in the Preds there though. They never really seemed to up the tempo until the 3rd.
Devils are now 2 in a row. Time for them to run the board!
The Leafs/Bruins game went over but it was a very tight one so I didn't mind not having the tip in for that one. And Dallas managed to win an NHL game with the least amount of shots imaginable. Poor Philly.
Based on the poll yesterday it was nice to see the majority of you watch the early games without fail. I'm pretty much the same. Even if I am out with the family I'll have it on my phone and watching.
It's Sunday, October 20th and we've got 5 games on the go. It all kicks off at 1pm EST and we've got some nice spread out games with the Habs/Wild game at 5pm EST. Flames/Ducks is the late one at 9pm EST which means I won't get to bed too late. Nice.
Interesting day where I have 3 tips all for different reasons. One is a vibe; one is based on the betting system and one is driven by the odds.
Rangers vs Canucks Betting Tips:
This is more a gut play than anything else. I've ranted about the Rangers schedule twice now. However they've logged that road back to back, had a day off and now start a 5 game homestand.
Just feels like one of those games where the Rangers are up for it and I knew glancing at the games last night I was most likely going to back them here.
They just didn't look sharp but I think they can recapture the form that saw them beat the Jets and Sens to start the season.
Not that I am writing off the Canucks or anything. They were unlucky yesterday not to score and their offense will be chomping at the bit to right that wrong after being shutout yesterday. I like that team. I just think if the Rangers play to the best of their abilities – and I think they will today – they can take this game.
This is one of those bets where I feel that it's risky enough that I should go for more value. As if the Rangers win based on my theories and expectations, it's a confident and solid victory. So regulation it is. If you think the Canucks will show a lot of fight then the over will be a better play.
0.5u on Rangers in Regulation
Canada: 2.26 Odds at BetOnline..
USA: +115 Odds at Bovada.
Everyone Else: 2.26 Odds at BetOnline..
(Odds correct as of 2019/10/20 8:26:23 AM EST but are subject to change.)
Canadiens vs Wild Betting Tips:
This is one where my betting system is absolutely screaming at me to bet the over. To be honest I wasn't going to bother as I don't really feel it myself, but over 5.5 I think I've gotta take that.
These two teams played just 3 days ago. Minnesota lost 4-0 in Montreal. They are a mess however there are a lot of reasons that they would come out fired up tonight. Zucker crapped a bit on Bourdreau so I feel there'll be some making up there.
Habs I'm actually a bit wary of after their first back to back where they lost 4-2 to Detroit but they still racked up lots of chances.But you can't argue with their results this year and their goalscoring on the road is excellent.
Worth a small play.
0.5u on Over 5.5 Goals.
Canada: 1.87 Odds at 888 Sports.
USA: No lines yet. Claim the deposit bonus at BetOnline..
Everyone Else: 1.87 Odds at 888 Sports.
(Odds correct as of 2019/10/20 8:26:23 AM EST but are subject to change.)
Ducks vs Flames Betting Tips:
After seeing the odds I feel completely obligated to back the Ducks here.
I'm not sold on this team but you can't argue with their results so far. Wins over the Hurricanes and Sabres? I mean that's impressive. Home performances all won by at least 2 goals except the Coyotes game? Very impressive.
Flames haven't won a game in regulation yet on the road and have 4 losses. On a back to back.
If the Flames are able to motivate themselves for this game and bring it then props to them. But I've looked at it from every angle and a Ducks bet just seems the right thing to do. If it's a trap then so be it. I'm wary enough that while I'll go with 1u here I'll do it including overtime/shootout.
1u on Ducks incl OT/SO
Canada: 1.84 Odds at BetOnline..
888 Sports.
USA: No Odds yet. Claim the deposit bonus at BetOnline..
Everyone Else: 1.84 Odds at BetOnline..
888 Sports.
(Odds correct as of 2019/10/20 8:26:23 AM EST but are subject to change.)
Other Game Thoughts:
Oilers vs Jets: "Fun" fact – of the Oilers 8 games so far we have backed them just the once. They lost that one. Boy do I hate them Oilers. As underdogs they are a decent price here and I was close to taking them.
Capitals vs Hawks: Caps should win but the odds are pretty much dead on here. No bet.
Daily Poll:
I've set this to close at 5pm EST before the Habs game and won't include the Canucks game to allow the poll to remain open longer.
[poll id="16″]
Non-NHL Betting Tips:
Written by Graeme
(All below systems are based mainly on mathematics and statistics with very little human input and are deemed experimental. Use at your own risk.)
WHL Betting Tips (2-1, +0.35u): Likes Saskatoon but I am getting these out early so no clue what the odds are. If I have a chance I'll post in the comments whether it's a play or not.
AHL Betting Tips: Well the system is now 3-0 in the final testing phase. Let's go with an official tip today. 0.5u on Toronto Marlies to win in reg 2.10 odds.
Where To Bet the Non-NHL Leagues:
Canadians: Bodog and 888 Sports.
Americans: Bovada.
Everyone Else: 888 Sports.
Follow @BetNHL
BetNHL.ca » Tonights Tips »