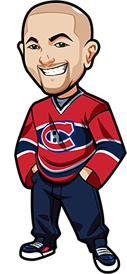 Written by Graeme on Friday, October 20th, 2023
Follow @BetNHL
Man it feels good to be writing NHL tips here for the first time this season.
Thanks to Scott for taking care of the tips by himself since the NHL season began. I was away in Saint Lucia for a week on vacation. Then I came home and immediately picked up the ol "airplane flu". Literally the day after I got back, I started feeling like absolute crap and it just got worse. Been bedridden all week.
However it works out really because I base my picks primarily on advanced data metrics, and so it's given me some time to actually gather data etc.
I will warn you I am going in to this quite cold. Being on vacation and then being sick means I haven't been following hockey anywhere near as much as I'd like. I've primarily watched a few highlights and saw some portions of games. But I feel quite out of the loop.
That's okay though as for each game I have to analyze, I'm going through the story of that teams season so far. Studying all the data etc. and gaining fresh perspectives. I just wanted to give you a heads up if my writings seem off at all it's primarily due to that. That's why a lot of this will sound like I am basically recapping the season so far – because internally, that's what I am doing.
Jackets vs Flames:
Jackets come into this one as slight underdogs at about 2.25. They have had mixed results with a nice win over the Rangers, but two hefty losses and can't stop conceding goals. Bad news for them is their xGA/60 is higher than their GA/60. Granted only a few games but still concerning.
Calgary have four games under their belt and are on their first back to back of the season after a battle with Buffalo. By the numbers, Calgary should put a few goals past them for sure. But eh – with it being an early road game and the first back to back, it's a nice and easy skip for me.
Islanders vs Devils:
Just two games for the Islanders this season. They've won them both over the Coyotes and Buffalo but nothing too impressive. Devils have had three games and are a mixed bag at the moment.
This is one where there just isn't enough data, and anything would be pure speculation. Ruff already seems to be firing up the lads, and their first road game he is getting them pumped for. But could be down a couple of players.
Another fairly easy pass.
Nice and relaxing introduction for me to the season. If there is anything I like today it's probably the Flames to score goals. But over 3.5 goals is a hefty price considering the B2B and road game so I'm good to pass on it. I think I'd back that if it was about 2.15.
Follow @BetNHL
BetNHL.ca » Tonights Tips »