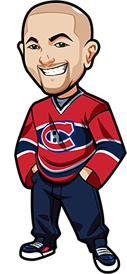 Written by Graeme on Saturday, October 21st, 2017
Follow @BetNHL
It was a night for the road teams last night with 4 out of the 6 winning.
The Capitals kept their sick record of not losing 3 in a row in a hell of a battle with the Detroid Red Wings. It really looked like they were going to lose till Oshie snuck a goal in with a minute to spare. Ovechkin then got them the win – unfortunately in OT.
We had the Devils to beat the Sharks but unfortunately they lost 3-0. I was concerned about the Sharks mobile defense but that really wasn't a big factor. The Devils missed two great chances in the 1st and started to lose steam after that. Going down 1-0 seemed to affect them. The biggest factor however was the Sharks on face offs – not just the amount they won(63.3%) but how they handled it. They controlled the puck extremely well and I believe 2 of the goals were directly due to face offs.
Penguins went down 2-0 but beat the Panthers 4-3 in a fun one. And Montreal continue to be a disaster. That's now 7 on the trot they've lost and you know things are bad because the Canadian media are actually daring to criticize Price for once. All season it's been how "Price needs help" and "Price cant do it all himself" etc but finally they're starting to throw some shade his way.
Seriously if they keep playing like this they're going to get kicked out of the NHL and have to play in the QMJHL.
Onto tonight. A busy schedule. With NBA back too I've got my NBA Tips website going. I've had that online since 2008. I had lost interest in the NBA for a bit but I'm right back into it now.
It does make for busy nights though! This was my night last night: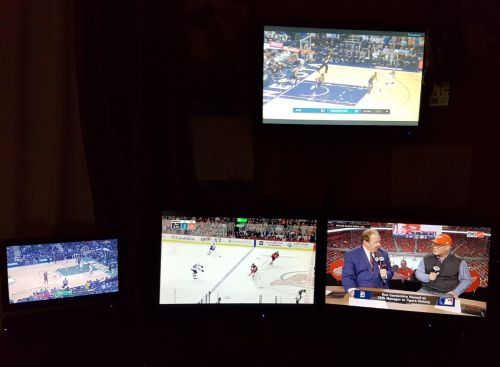 And all I could think while watching those were "There's still so many other NHL and NBA games I'm missing!"
Todays tips:
King vs Blue Jackets Betting Tips:
The Kings are red hot but are decent sized underdogs against the Blue Jackets. This should be a close game but we like the value in the Kings.
LA are without Carter but he hasn't been that important this season. The LA offense are firing on all cylinders. The Jackets offense has been overall good this season but they came up way short against Tampa. The Jackets have had mixed results this season and really haven't stepped up against the better teams.
Kings have only had the one road game this season where they beat the Sharks 4-1. Overall LA just look good enough for us.
Kings to win incl OT/SO
Canada: 2.30 Odds at Bovada.
Everyone Else: 2.30 Odds at Bet365 (Americans: We recommend http://www.bovada.lv.
Leafs vs Senators Betting Tips:
These two teams usually have nice competitive matchups and with the way the Leafs are playing, the Sens should match them for goals and make this a nice high scoring game.
We all know how the Leafs are. The Sens offense has also mostly been great.
We're going with Over 6 Goals in this one.
Canada: 1.87 Odds at Bovada.
Everyone Else: 1.83 Odds at Bet365 (Americans: We recommend http://www.bovada.lv.
Stars vs Hurricanes Betting Tips:
Hurricanes are coming into this one pretty hot right now, but the Stars have won 3 in a row and we like them to make it 4.
They've been a good matchup for the Canes in recent years and this is the last home game for them until November 4th. Expecting a big effort from them tonight.
Stars to win incl OT/SO if Bishop in net
Canada: 1.77 Odds at Sports Interaction + $20 Free Money Line Bet
USA: -140 Odds at Bovada.
Everyone Else: 1.74 Odds at Bet365 (Americans: We recommend http://www.bovada.lv.
OHL / WHL / AHL / KHL Betting Tips:
(All below systems are based mainly on mathematics and statistics with very little human input and are deemed experimental. )
WHL Betting Tips (4-6, -2.03u): Swift Current Broncos 1.75, Portland Winterhawks 1.75 both in reg.
OHL, WHL & AHL & KHL Betting:
Canadians: Bodog and 888 Sports.
Americans: Bovada.
Everyone Else: 888 Sports.
Follow @BetNHL
BetNHL.ca » Tonights Tips »