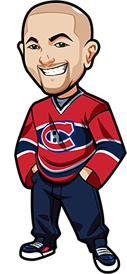 Written by Graeme on Friday, October 21st, 2022
Follow @BetNHL
It was an 0-2 night last night as both teams backed decided to play without a goalie I guess.
Ottawa continued on from their wild game over the Bruins to put a similar amount plus the Caps. Going to be interesting seeing if that becomes a trend at home.
The Oilers offense came to life. The Canes had looked good defensively so far this season, but the Oilers are a bit of a step up from the Kraken in terms of offense, and were able to put 6 past them.
First time I'm writing tips since opening day. Feels weird as it's all not part of my routine yet. The writing doesn't seem natural to me yet either – I've been writing NFL tips the past 6 weeks and have a specific writing style for that and I feel it coming into play when I write this. I'll get used to it all again no doubt after this first weekend.
At least I don't get thrown into the deep end. A nice and easy three game night. Let's look at it right now:
Panthers vs Lightning:
Close to a pickem in this big game. And look I'm sure Tampa come to play here – but man, they have had some poor results to start the season. It's an interesting one because Tampa will be up for this rivalry game and looking to get their season on track, while the Panthers will be out for revenge after last years sweep.
Panthers without Ekblad for a month which is tough. But based on everything I've seen so far this season, I like the Panthers here. I feel like the odds are close due to both Tampas name, and the recent playoff series between the teams. The advanced metrics strongly back the Panthers here too.
Tampa are creating the chances and I'm sure we'll see goals other than from Stamkos come soon.
I'm good to take Panthers incl OT/SO here just based on the way this season is going so far this year. Bookies expect this one to be a high scoring one and I don't disagree – but I'd rather be on the home side in games like that with the crowd spurring them on. Not sure how much you want to factor it in but Panthers have also been an excellent OT team last few seasons which helps in regard to the OT/SO bet.
Ontario: 1.90 Odds at 888 Sports.
Canada: 1.90 Odds at 888 Sports.
USA: -108 Odds at BetOnline.
Everyone Else: 1.90 Odds at 888 Sports.
(Odds correct as of 2022/10/21 11:41:45 AM EST but are subject to change.)
Blackhawks vs Red Wings:
The Red Wings come to Chicago unebaten in regulation time with wins over the Devils and the Habs. Blackhawks just picked up their first win, and now have their home opener.
I kinda like the Blackhawks in this game. It's your home opener. You're under a new coach who just got his first win. It's all about momentum and I freaking love betting on momentum.
But the Hawks have to earn my trust. Over the years, there have been many spots like this where I can look at them and think "I really like them here" and do a higher unit play personally. Then they blow the spot.
So not going to take them here. But I do like them to get the W.
Avalanche vs Kraken:
A bit of a rocky start for the Avs as they can't get the momentum going and lost to the Jets on Wednesday.
Kraken come in on a three game losing streak after losing to the Blues in OT. Bednar seems to be playing around with the lines a bit.
With the skill levels I expect the cream to rise to the crop, and the Avs to win out here. But tis hockey – you can't count on that. For any value I would have to take Avs -1.5, and I'm not feeling too confident about them yet. When you look at the advanced metrics, these teams are actually very close. Kraken even have a better xGF/60 so if they take their chances tonight, they could pull off an upset.
—————
Also one last thing – bloody hell did it feel great sitting down and writing about hockey again. Just feels so good. Missed this!
Follow @BetNHL
BetNHL.ca » Tonights Tips »