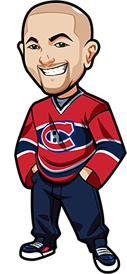 Written by Graeme on Saturday, October 21st, 2023
Follow @BetNHL
First an important note in regard to our daily e-mails – we had a lot of issues with those last year, and they are still happening. For example, yesterday I sent out the e-mails at 10:43am but they didn't get to everyone until 7:06pm.
I'm going to be working on solutions for this. However, these solutions may end up causing issues and causing the e-mails not to go out that day.
So I'm going to be doing it on quieter days, and will give you a heads up in advance. Tomorrow, there are only two games and Monday there is only one game. So I will be working on it both of those days. If you don't get the e-mail with the daily tips notification, no need to send me an e-mail freaking out (it's amazing how often I get those). Instead just head to betnhl.ca, as the tips will be posted by like 11am EST every day as per usual.
Nice to see it's a whole new season, same old Calgary Flames. They were a big concern last year where their offense would just disappear. The B2B and road game were the logical reasons that I stayed away from them, but I must admit that thought was in my mind as well. They generated a fair amount of chances but weren't able to convert.
As a reminder from yesterday – I've been out of it since the season began, and am just getting caught up. I also would prefer some more data for making betting tips. Especially with a slate as big as today – I'll be playing it very cautious in regards to analysis and betting tips. It's a long season so taking it easy early is no biggie.
Senators vs Wings:
Senators come in on an excellent run to start the season. They're a team I said in my previews that I felt very optimistic about to begin the season. Red Wings are also coming in firing. Very intriguing game.
A quicklook at the metrics suggests this is a very even game. So there might be slight value on the Red Wings. Can't back them against a settled and confident Sens team though.
Coyotes vs Ducks:
Coyotes coming off that big win over the Blues but it's been a weak start for them so far. They are heavily favoured against the Anaheim Ducks. I really don't think they should be.
I guess the general concern is the Coyotes offense if they can get going – which we saw against the Blues – and Gibson is Gibson. I'll be honest I spent a fair bit of time looking at this one. It's not like the Coyotes offense so far this season are gold tier.
Sabres vs Islanders:
Eh with the Islanders on a B2B happy to skip. I'd like to think Buffalo take the win here but the early metrics don't really lean that way. Particularly in regard to the Sabres defensive and goaltending. And the Islanders last night was all PPGs so you can't really count out their defense yet.
My gut says the Sabres get the W here but the odds based on the season so far I'm not loving.
Lightning vs Leafs:
The Leafs are just all over the place this season. Couple of rough outings. Feel like this one will be goal heavy looking at the metrics, but the bookies expect that too with an over 7. Honestly it really should go over, especially with the Leafs overall metrics in offense. But considering their last two offensive performances, it just feels like a coinflip on whether their offense does the job or not.
Leafs have been performing well enough but just can't score consistently.
Based on the Lightning data, Leafs SHOULD be getting the goals here and if I were betting this one I'd probably look at over 3.5 goals for the Leafs.
Panthers vs Canucks:
Both teams with polar opposite starts to the season. Florida have the momentum. The metrics are a bit tough this early because you look at them and the Canucks offense is a bit daunting. But a large part of that is that 8-1 game which will balance out over the season.
I think there's enough here to go with the Panthers. Canucks defensive metrics are concerning and goaltending has been helping them out. I think the Panthers can exploit that.
If I had more data I'd probably go with an in-regulation win but tis early so Panthers incl OT/SO.
Ontario: 1.74 Odds at Bet365 (Americans: We recommend http://www.bovada.lv
Canada: 1.75 Odds at BetOnline.
USA: -133 Odds at BetOnline.
Everyone Else: 1.75 Odds at BetOnline.
(Odds correct as of 2023/10/21 11:24:34 AM EST but are subject to change.)
Canadiens vs Capitals:
This is one of those games where just off the bat I know I'm not going to be backing anything involving them. Just nowhere near enough data, Capitals still trying to really find themselves. Their offense is abysmal. Habs is a good team for them to get going against it looks like. Nothing here.
Wild vs Blue Jackets:
Nothing for these two especially with the Jackets on a B2B, and just how inconsistent both have been. I'd give the slight edge to the Wild. Not as big as the bookies have it though but maybe they are factoring in the B2B.
Stars vs Flyers:
Interesting ods with the Stars hefty favourites. Not sure they have earned that this season at all. Defensively they're certainly looking sound but the Flyers have had some good performances.
Stars of course will be a step up from Canucks and Oilers. Oettinger is playing well, but so is Hart. This is one where it sucks that it's early in the season and I'm playing catch-up, because I really think the Flyers have value here but I feel irresponsible advising it.
So personally I'm playing Flyers DNB at 3.30 odds. But I am still out of the loop, so that play may stink.
Blues vs Penguins:
Eh neither team is one I really feel like betting right now. Blues offensively look absolutely shocking thus far. But I don't have enough confidence in the Pens especially on the road at the price we're being given.
Predators vs Sharks:
Preds should get the W. Would have to be an in regulation play. I certainly don't hate it. They have some severe defensive issues it looks like, but the Sharks don't look like a team that can capitalize on it. I'm going to pass as it's been some tricky games for the Sharks and it's too early to dive into weighted metrics.
Blackhawks vs Knights:
Knights looking the real deal. Hawks been a bit of a mixed bag early. This is their home opener. Hawks could make a game of this. They have a solid xGF/60 so far and if they are up for it with the home game. Not really up for betting teams on the road in regulation this early anyway.
Avalanche vs Hurricanes:
Avs on a tear to start the season. Hurricanes have been a bit all over the place and their goaltending is abysmal. Avs on the other hand are rocking the goaltending.
I'm surprised at the Over/Under being low. I thought this would be a 6.5 or even a 7 when I looked at the metrics. I guess that's more due to the performances of Georgiev and then when you look at who the Canes have played against.
I'm going to back the Canes to be able to give Georgiev his biggest test yet though.
Over 6 Goals incl OT/SO
Ontario: 1.83 at Bet365 (Americans: We recommend http://www.bovada.lv
Canada: 1.84 at BetOnline.
USA: -119 Odds at BetOnline.
Everyone Else: 1.84 Odds at BetOnline.
(Odds correct as of 2023/10/21 11:24:34 AM EST but are subject to change.)
Kraken vs Rangers:
Nothing for this one. Neither team really backable at the moment. Bookies probably have the odds right.
Oilers vs Jets:
I'm fine with staying away with anything involving the Oilers right now.
Kings vs Bruins:
Good start to the season for Boston. Will be a big test for them here. Curious to see how their goaltending and defense hold up against what is looking like a dynamic Kings offense. I shall pass.
Whew – that was many hours of work, but felt great to really reacquaint myself with each NHL team. Now a short break to watch the rest of the soccer, then off to write NFL betting tips. Oh Saturdays.
Follow @BetNHL
BetNHL.ca » Tonights Tips »