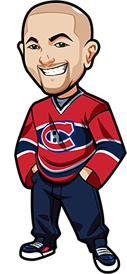 Written by Graeme on Friday, October 22nd, 2021
Follow @BetNHL
1-1 last night for a slight loss.
We had the Canes to beat the Habs and they did it with relative ease. That was one where we were tempted to take them in regulation but you never know when a team is able to dig deep. Was not the night for the Habs.
They host the Red Wings tomorrow. Not sure if we'll be able to take the Wings there. Will have to be a tempting price. I'm thinking at least 2.40 maybe 2.50.
Lost with the Sens yesterday. They got off to a good start against the Sharks but San Jose scored twice against them. Sens played very well in that one – it just wasn't to be. Reimer had a fantastic performance.
Four games tonight. Let's see what we got – quick note that yesterday seemed a crazy day with a few injuries, COVID crap etc. If anything changes to affect tonights plays I will post in comments:
Leafs vs Sharks:
The Sharks come into this one undefeated but on a back-to-back. Leafs had a few day's rest. Leafs are rolling with Michael Hutchinson tonight with Campbell being saved for the Pens.
Sharks have Adin Hill in tonight. He's 2-0 for the season with one shutout against the Habs.
While Leafs aren't exactly lighting up the league right now, they have the best Corsi and Fenwick offensive stats so far. Second in xGF/60 only to the Hurricanes.
Sharks do have the 2nd best xGA/60.
Basically with the Leafs – the way they are playing, the goals are going to start coming. Will this be the game where they do against a potentially tired Sharks team?
Hutchinson is not a great goalie. With him in the net, I think it is very tempting to bet on the Sharks tonight. Probably value on that. But the Leafs are going to light up someone very soon and Hill has the potential to be that guy.
Looking back at previous Leafs games – they do tend to push the offense more when they have Hutchinson in the net. They do have the Pens tomorrow but looking back at similar spots where the Leafs have a bigger game on the back to back and save their top goalie for that one – that hasn't really affected the goal output or input too much.
I think there's enough here to go with Over 6 incl OT/SO.
Canada: 1.84 Odds at BetOnline..
USA: -119 Odds at BetOnline..
Everyone Else: 1.84 Odds at BetOnline..
(Odds correct as of 2021/10/22 8:24:48 AM EST but are subject to change.)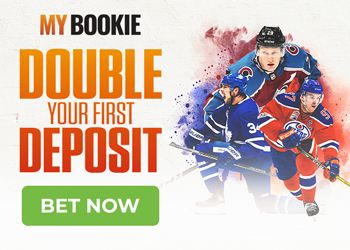 Sabres vs Bruins:
The Buffalo Sabres are 3-0 to start the season, and now host the Boston Bruins hoping to go 4-0. Boston are 1-1 having been blasted by the Flyers the other night, and a quiet win over the Stars. Bruins just collapsed against the Flyers and you have to wonder if that will affect them mentally.
Sabres are a big price at 2.75ish. This is the type of game where I try and take the "name value" out of it and just look at the metrics for the teams.
Unfortunately with so few games, there's not much to go on. Sabres are basically PHENOMENAL so far defensively, although when you do weighted against the teams they have played it's not as impressive. Bruins have the top CF% and FF% despite the big loss to the Flyers.
Based on the data so far this is tighter than the odds indicate. I think Sabres are a clear value bet here. The one issue is when we advise bets, even with clear value bets such as this, we advise them with a degree of confidence. And I don't really have that with the Sabres.
I was tempted by Sabres or Draw but at 1.90 odds, I don't think there is enough value in that. Would need above 2.00. I'd say go for a value bet on the Sabres, or if they go down 1-0 look to live bet Sabres or Draw.
Stars vs Kings:
Stars with their home opener. They haven't exactly been inspiring this season. After that big win over the Knights, Kings haven't either.
An easy skip. The home opener rule says Stars should probably win but hard to have any confidence in them.
Knights vs Oilers:
We called that nice Blues win over the Knights the other night which was nice. Knights are bottom of the Pacific. Knights still without Stone and Pacioretty. Tuch out too, Alec Martinez day to day as well now.
Knights may be able to get Janmark in tonight. Oilers have come here and won twice before in the past. They are on a back-to-back after the big Coyotes win.
I assume they roll with Stuart Skinner tonight. He played one game last season where he conceded 5 goals against the Senators…..and Oilers freaking won! 8-5, to be exact.
Knights look a mess defensively at the moment and now they have the offensive issues.
Going to go with something different here. I'm going to go with Oilers win the race to 3 goals. I should note race to 2 goals is playable too at a great price, but going to be a tad greedy here.
This bet means Oilers must score 3 goals prior to Knight scoring 3 goals. If Oilers don't or score less than 3, the bet is a loss. You may wish to do race to 2 goals instead if you like this play but want to make it safer, but I've done the math and think this one is fine.
Canada: 2.80 Odds at Bet365 (Americans: We recommend http://www.bovada.lv.
USA: +155 Odds at Bovada.
Everyone Else: 2.80 Odds at Bet365 (Americans: We recommend http://www.bovada.lv.
(Odds correct as of 2021/10/22 8:24:48 AM EST but are subject to change.)
Follow @BetNHL
BetNHL.ca » Tonights Tips » October 22nd, 2021 NHL Betting Tips