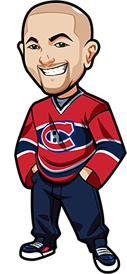 Written by Graeme on Saturday, October 22nd, 2022
Follow @BetNHL
The Panthers unfortunately lost in overtime last night. Brayden Point stepped up big for Tampa, as did Vasilveskiy with 36 saves in that one. That was a brutal mistake by the Panthers to allow Point to be wide open for the game tying goal. Lightning took the momentum from that, and the Panthers just seemed to fizzle out.
I said yesterday if the Kraken could take their chances they could pull off an upset, and they were able to do so with a big 3-2 win over the Avs. xG there was pretty much on point there with the goals.
Hawks managed to pull off the win in their home opener but have certainly not earned my trust ha.
A big Saturday slate and a great day of sports. Soccer all morning. Then an early UFC and some NHL games. Then NHL and NBA at night. Looking forward to it. And also an afternoon race for the F1 tomorrow which is nice after having stayed up until 5am for the Japanese Grand Prix.
Let's get into the games – Devils vs Sharks and Bruins vs Wild are early games. As a quick note I do my best Saturday mornings to get these out early enough but our mailing list software can be slow – so be sure to check the website for early games just in case.
Devils vs Sharks:
Devils come in on a two game winning streak after a struggling start. Sharks come in having ended a 5 game losing run to open the season, with that surprise OT win over the Rangers.
Doesn't really feel like a big momentum shifter but you never know. They have been very poor to open the season. Devils feel they are getting more cohesive now.
I liked the game the Devils had against the Islanders. They were dominant, and remained strong throughout. Like I said maybe that Sharks win will shift momentum for them but Devils are a team that have looked really good their last two games and I'm backing that to continue here. Sharks advanced metrics are all rather dismal.
Devils win in Regulation
Ontario: 1.86 Odds at Bet365 (Americans: We recommend http://www.bovada.lv
Canada: 1.86 Odds at Bet365 (Americans: We recommend http://www.bovada.lv
USA: -135 Odds at BetOnline.
Everyone Else: 1.86 Odds at Bet365 (Americans: We recommend http://www.bovada.lv
(Odds correct as of 2022/10/22 11:20:30 AM EST but are subject to change.)
Bruins vs Wild:
The Wild play their first road game of the season and it's been a tough start for them.
I'm going to pass on this one. It's just one of those weird games where I look at it, and the Bruins win actually makes a lot of sense especially considering the odds – but I can't quite bring myself to advise it. Advanced metrics do back a Bruins win. Just concerned with the way both teams have been defensively. When you have two leaky defenses, things can get very crazy so coinflip odds are probably on the money for this one.
Oilers vs Blues:
Oilers got that big win over the Canes and now play their 5th home game in a row looking to go above .500. We haven't seen the Blues enough this season for me to back anything here on a day with such a big slate. It'd have to be Oilers in regulation. Blues have only beaten inferior opposition and the Oilers are a step up.
Oilers made the change of RNH with Draisaitl and Hyman which worked out well.
Feels like Oilers should get the win but the way they are conceding goals at the moment, plus Binnington looking to be pretty solid right now and just the lack of data on the Blues – happy to skip.
Senators vs Coyotes:
After their surprise win over the Leafs, the Coyotes succumbed to the mighty Montreal Canadiens. They have been on the road all season so far and don't get to play at home until Friday.
Senators have had a tough start to the season in terms of competition but racked up two wins at home over the Bruins and Capitals, with their offense coming to life.
The odds are iffy as we'd have to take Sens on the handicap. Coyotes have been slow starters to games. Senators also conceding like crazy at the moment. My concern is following the two wins over the Caps/Bruins we see a bit of overconfidence with Ottawa. Arizona have proven you don't want to do that against them.
Actually the more I look at it – I'm going to go with Over 6.5 Goals incl OT/SO. My biggest concern about that would be if the Coyotes start good early. It's been a bit of an issue with them – but the Sens were able to come back against the Caps and I'd hope they can do that here. These teams have a combined xGA of 7.34, and with the defensive metrics of the Sens I feel like Coyotes should be able to contribute some goals.
Ontario: 1.83 Odds at Sports Interaction (SIA) - Non-Ontario bet $10 get $200
Canada: 1.83 Odds at Sports Interaction (SIA) - Non-Ontario bet $10 get $200
USA: -118 Odds at BetOnline.
Everyone Else: 1.83 Odds at Bet365 (Americans: We recommend http://www.bovada.lv
(Odds correct as of 2022/10/22 11:20:30 AM EST but are subject to change.)
Blue Jackets vs Penguins:
Penguins on the road is always a big "ooof no" to me and it takes a lot to convince me. Penguins have been a good scoring team, and it's nice to see all the points spread among the team. Jackets got a bit of momentum going and I will not be surprised if the Jackets pull off the upset.
Lightning vs Islanders:
This early in the season, happy to skip games involving teams on a B2B. Neither team is really screaming "take your money and bet on me" right now anyway.
Canadiens vs Stars:
Habs have been rather erratic to start the season. Stars looking solid. Habs looked good at home. Happy to skip although I feel like the Habs probably shouldn't be as big underdogs as we are. Power play hasn't been any good so far this year but that can change on a whim.
Jets vs Leafs:
Jets getting to play their 2nd home game of the season after beating the Rangers 4-1 on the 14th. Leafs really not doing well so far this year. The Leafs offensive metrics are of course very impressive. Not a team you ever really want to bet against. Not much I like in this game.
Capitals vs Kings:
Iffy start for the Capitals. Looked to be getting 3 in a row then after the 2-0 lead over the Sens, just completely took their foot off the gas. If you look at the xG from around the 15th minute mark until the last couple of minutes of the game you could print it out and use it as a level.
Caps probably should win this but I'm not sure how to rate the LA Kings yet. Some real high scoring, competitive games and coming off that Pens game we may see a lot of fight in them like the Wild one. Nothing for this game.
Predators vs Flyers:
Flyers with their first loss of the season away to Florida. It was on a B2B though and they still made it a competitive game. They're huge underdogs at about 2.80 plus against the Preds.
You do worry if the new coach feel has worn off now. All it takes sometimes is one game.
Looking at the advanced metrics for both these teams so far this season, xG is about the same. Preds are much better in Corsi and Fenwick. Flyers interestingly have a very low HDGA/60 of 0.25. I'm sure that will balance out over the season but still interesting to note.
I was kind of hoping they would back up a Flyers bet here but alas, it's not to be. I do think they shouldn't be this high odds wise though. So if you take them it's a gamble, but I'd say it's an +EV gamble.
Knights vs Avalanche:
Knights are favourites here, but I just can't buy into it. They've played a couple of the teams low in the power rankings and got the wins, plus the Jets who were on a B2B.
Avs of course stumbling a bit and on a B2B here. That performance was terrible.
Last season, they were slow to start but after they got going obviously did very well, and were a good bounce back team.
My gut says the Avs pull out the win here. It's just hard to advise them based both off the B2B, and that dismal performance last night.
Flames vs Hurricanes:
Calgary suffered their first loss of the season to Buffalo on Thursday. The Canes also reeling after that Oilers loss.
This is just one of those games I have no interest in ebtting on, but really want to focus on it to see how both teams perform. If you go buy the advanced metrics – well the Canes always rock it there. I'd say they are a marginal play. You just have to wonder how this road trip and that first loss despite putting up 4 goals will wear on them.
Canucks vs Sabres:
Despite some great results so far, Buffalo are hefty underdogs at about 2.50 odds.
They have managed to beat both Calgary and Edmonton on the road.
Canucks are yet to win this season however it's their home opener so I guess the bookies assume that will be a big factor.
Last season, Vancouvers home and away results were generally the same. 20-14-7 and 20-16-5.
The advanced metrics are a bit mixed, but with the Sabres offensive stats and the Canucks defensive stats, I'm a bit surprised Buffalo are such heavy dogs here.
I'm going to go with Buffalo Over 2 Goals – 3-Way here. This means they have to score at least 3. The metrics point to this being a good play.
Ontario: 1.74 Odds at Bet365 (Americans: We recommend http://www.bovada.lv
Canada: 1.74 Odds at Bet365 (Americans: We recommend http://www.bovada.lv
USA: -135 Odds at Bovada
Everyone Else: 1.74 Odds at Bet365 (Americans: We recommend http://www.bovada.lv
(Odds correct as of 2022/10/22 11:20:30 AM EST but are subject to change.)
Follow @BetNHL
BetNHL.ca » Tonights Tips »