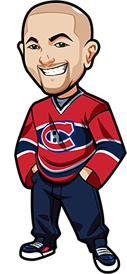 Written by Graeme on Sunday, October 22nd, 2023
Follow @BetNHL
Well a 1-1 day on my first official day doing tips. I'll take it.
Got the win with the Avs/Hurricanes over in quite easy fashion. Massive 2nd period there with 7 goals to put it over.
Panthers lost against the Canucks. If I'm going to lose a bet, I at least want to get some entertainment out of it and that's what we got in that game. It was a very even game and that unfortunate double salvo by the Canucks was the difference maker. Crushing for the Panthers to pull it back only to blow it right away as well.
Looking back at my analysis yesterday, generally happy with it and a tad frustrated at a couple of missed opportunities such as a value play on the Wings. But that's a good thing to be feeling like that after just one full day of betting tips. Nothing where I am looking at and thinking "Whew – glad I didn't back that one".
Alright so for the mailing list people I'm running my first big test today with a different provider. If there are any issues let me know.
A quiet schedule today let's get to it.
Red Wings vs Flames:
Wings coming off the solid victory over the Sens to make it 4 on the trot. Now they head to Calgary, who are a perfect 1-0 at home and had the day off yesterday.
Flames at about 1.74 odds and Wings 2.15 and without diving into anything, I'd probably agree with that. Looking at the metrics, the Red Wings metrics are actually generally pretty good. Corsi and Fenwick are a bit weak but some solid overall metrics.
Factoring in the B2B and home/road split, odds seem right about on the money here.
Ducks vs Bruins:
Ducks coming off the Coyotes loss yesterday. That Coyotes offense didn't light them up like some people expected, and the Ducks had a good amount of changes but couldn't convert.
Bruins with the solid win last night. I'll be honest I was drifting in and out of consciousness on my couch watching most of that game, but it looked like Boston were a tad fortunate. I don't really see anything worth betting here. I think Bruins are over-favoured to the point there's slight value on the Ducks. Not enough for me to advise it. More just one of those kinda long shot bets that does have some actual merit to it.
Follow @BetNHL
BetNHL.ca » Tonights Tips »