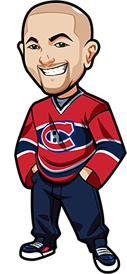 Written by Graeme on Friday, October 23rd, 2015
Follow @BetNHL
A very frustrating night last night.
Around 9pm EST we looked set to go into the Capitals/Canucks game at 2-0. The Ottawa Senators were up 4-2 on the Devils after giving away 2 silly goals with only 6 minutes on the clock. The Blue Jackets and Minnesota Wild were at 5 goals with an entire period left to go over.
Looked great.
Then it all went to hell.
Devils managed to score twice including a goal with 32 seconds left to tie the game up. Columbus and Minnesota failed to find the net – and to add insult to injury, Capitals vs Canucks also failed to go over with 5 goals out of the needed 6.
Anyway – moments like that are where you have to be wary being a sports better. I know a lot of people who bet sports. I know a lot of people who work with online sportsbooks. And I guarantee you that the majority of losing sports betters are because of nights like that.
Not losing on what is essentially a bad beat or variance not on your side – but the reactions to it. Like an unnecessary 3 point buzzer beater in NBA, or a field goal kicked with 3 seconds left when the score is 42-10 in the NFL – both of which put the game over when you had the under.
So many people freak out at moments like that – get heated, and start making crazy bets to try and recoup their money feeling they got screwed.
You just have to realize that unfortunately nights like that happen – and think of all the times where a game has went in your favour when the odds were against that happening. It all balances out.
Alright – today is Friday, October 23rd 2015. Let's get to todays NHL Betting Tips and hope variance favours us tonight:
Flames vs Red Wings Betting Tips:
These two teams are usually good for hitting the 5 goal line at the very least when they play each other. Their 2 games last season saw the Flames win 5-2 and the Wings win 3-2.
Flames at home every game this season has went over. 8, 7, 7 and 6 goals. Wings offense has been a bit weak on this current road trip but that's going up against one elite goalie in Carey Price, and the momentum riding Edmonton Oilers.
Going to take Over 5.5 at 2.10 odds at Bovada for Americans and http://www.Bet365.com for everyone else. hoping the Red Wings offense is fired up for this winnable game.
Sabres vs Canadiens Betting Tips:
I have so many bad memories of games like this. I think the last 2 seasons early on I backed a top team against the Buffalo Sabres who were riding a huge streak. Lightning one year, Sharks the other. Both times Buffalo stopped it.
Let's hope it's third time lucky.Habs aren't playing Price tonight but they have looked tremendous so far and Buffalo still look like they're sorting things out. We'll take Montreal in regulation.
.
OHL Betting Tips:
The OHL lines aren't up yet at Canadians: Bodog and 888 Sports.
Americans: Bovada.
Everyone Else: 888 Sports..
If there are any tips tonight we'll post them on our Facebook Page later.
.
Follow @BetNHL
BetNHL.ca » Tonights Tips »