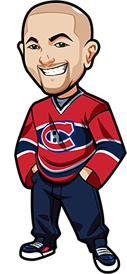 Written by Graeme on Sunday, October 23rd, 2022
Follow @BetNHL
A 3-0 day yesterday.
Pretty happy with my reads for the games yesterday, and hopefully some of you took that +EV gamble on the Flyers as well. It's always a bit tough this early in the season as the data is more of a loose guideline than anything else, and it can be very opponent dependent etc.
Can result in a lot of extra work – and sometimes all for nought. So nice that yesterdays work paid off.
Big and busy Sunday with soccer on the go right now, then I've got NHL, F1, NBA and NFL to watch. Man I love weekends.
Of course in the hockey world, I don't love Sundays as much. Especially early in the season with always quite a few B2Bs. Let's see what we've got anyway:
Blackhawks vs Kraken:
Blackhawks home underdogs here which was a bit of a surprise. They just had that close game with the Red Wings that they won to make it two in a row. Kraken did just bet the Avs but I wasn't too surprised by that. It's similar here – if they take their chances, they can win the game.
I can't back that team on the road at those odds though. Hawks have confirmed Stalock is in, while Kraken possibly without Grubauer. Hawks seem to want to focus on defense and being tighter at home.
To me, this seems like more of a 50/50 game. Hawks should have a bit of confidence, and Kraken it is heavily reliant on them actually scoring goals. Which I mean – is quite an obvious thing to say – but it's in contrast to their xG.
Which in theory would mean I'd take the Blackhawks – but eh. I was very glad I didn't back them against the Red Wings. I said they had to win me over and they didn't do so. The advanced metrics lean heavily towards Kraken. Yeah this is a fairly easy no play.
Red Wings vs Ducks:
Red Wings still to lose in regulation and return home here. Ducks still seeking their first win since their home opener OT win against the Kraken.
Pretty much all of the metrics here point to a Red Wings victory. After a good start, Red Wings are starting to regress but have seemed to have flatlined at decent metrics. Ducks – if they're turning a corner, it's a very small corner. Or would that be a very long corner? Basically their coach has a lot of good things to say about them doing better but I think they have a long ways to go.
Ugh. This is one of those where I am going back and forth on backing the Red Wings. Almost looking for an excuse not to back them but they seem the mathematically sound play. The odds are low so I'd have to take them in regulation probably. Plus they have lost two OT games already this year while Kraken won one and held the Bruins to a shootout.
It's not a play I love, but I feel like I gotta take Red Wings in Regulation here. So far they have shown they're the better side, and have to hope that after blowing their lead against the Hawks, we see a more focused side. (Of course that can go the other way with Ducks down but know they can come back).
Red Wings in Regulation
Ontario: 2.10 Odds at Bet365 (Americans: We recommend http://www.bovada.lv
Canada: 2.10 Odds at Bet365 (Americans: We recommend http://www.bovada.lv
USA: +105 Odds at BetOnline.
Everyone Else: 2.10 Odds at Bet365 (Americans: We recommend http://www.bovada.lv
(Odds correct as of 2022/10/23 9:36:59 AM EST but are subject to change.)
Rangers vs Blue Jackets:
Rangers heavy favourites, would have to be -1.5. They just aren't quite "that" team for me yet. They should have Kravtsov back which is a boost. Jackets on a B2B. But I mean Rangers just had a messy game against the Ducks, and lost to the freaking Sharks. Not a team I want to come out and back to cover the spread. No bet. I feel like they'll get it done in regulation.
Panthers vs Islanders:
Panthers looking to bounce back after that Tampa loss. Islanders – ditto. Flyers bounced back already once this season. But man the goals quantity they have conceded so far is quite concerning.
The advanced metrics for this one are quite concerning in terms of backing the Panthers. Islanders are high in a few spots that could be an issue.
Both teams offensive metrics are solid. This looks like an over type of game. But 6.5 is a hefty line, and these two haven't exactly had banger matchups between each other in recent years.
One of those where Panthers in reg, and the over, both make mathematical sense but I just don't feel super great about either.
Flyers vs Sharks:
Flyers getting no respect from the books. I expected them to be fairly heavy favourites here but only about 1.76 incl OT. Sharks have been terrible. The odds are actually at that point where you wonder what the sportsbooks know that you don't. Like they have access to a time machine, and know this is going to be a let down spot for the Flyers.
The only issue of course is Sandstrom is projected to get the start. His lone start he got lit up by Florida and they lost 4-3. Flers have a high xGA so goaltending is certainly a factor for them this season. Which means it's a bad thing if Felix starts (at least based on the data so far this year which admittedly isn't much).
Let's go with Flyers in Regulation if Hart starts.
Ontario: 2.25 Odds at Bet365 (Americans: We recommend http://www.bovada.lv
Canada: 2.25 Odds at Bet365 (Americans: We recommend http://www.bovada.lv
USA: +115 Odds at Bovada
Everyone Else: 2.25 Odds at Bet365 (Americans: We recommend http://www.bovada.lv
(Odds correct as of 2022/10/23 9:36:59 AM EST but are subject to change.)
Follow @BetNHL
BetNHL.ca » Tonights Tips »