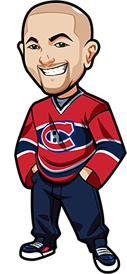 Written by Graeme on Wednesday, October 24th, 2018
Follow @BetNHL
Well it was an interesting night of results in the NHL but a disappointing one from a betting standpoint for us.
We had the Blue Jackets to win in regulation and that was the most frustrating game to watch this season by far. Blue Jackets took an extremely early lead and then that was it – it was as if they had won the game. They didn't just take the foot off the gas but they went in complete reverse.
It was brutal to watch as they showed no passion and didn't even try to outwork the Coyotes. I've no idea what was going on but it wasn't until the Coyotes went up 3-1 that the Jackets actually woke up. During that period they hit the goal posts I believe 3 times. That was frustrating too in that if one of them had went in it could have been a huge momentum shift.
However the Jackets deservedly lost that one and I feel bad for any home fans who made the journey on a Tuesday night for that crap.
Had the Ducks/Hawks over but it didn't come in. Blackhawks give away a lot of goalscoring chances and the Ducks have been good to seize those but it didn't happen this time out. I think we're seeing the Ducks regress now after that big start to the season.
Stars got a solid win 4-2 against the Kings at home. I mentioned in the comments that you have to remember the Stars came back from a 3-0 deficit to the Ducks after failing to beat Gibson with many shots. Many teams would let their heads go down during that so something like that is good to see.
Penguins vs Oilers saw a 6-5 thriller. That was one we wanted to take the over but it was based more on the players and not their current performances. Good to see the Oilers offense wake up again but much like last season it doesn't look like we're going to see much consistency from them.
In case you missed it, absolutely insane goal by Crosby in OT.
It's an interesting time this early in the season. More than any other season, I find there's a lot of teams, or factors of a team, that you just can't count on. I mean look at the start of the season and the expectations in teams or in offenses etc. It's good to see the Sharks put up three wins in a row though however they've got a big game Friday against the Hurricanes who can be a tricky team. Will be interesting.
Habs are now first in the East. It was never in doubt. Just give us the cup now. Seriously you have no idea how much I'm loving it. I know it's not going to last but I have so many Leafs friends that were so hyped during the Summer that it's pure joy being able to ask them how many goals their hot forwards have scored in the last two games.
WHL system picked up another win which was good. AHL system should start with tips soon. Just testing the waters with it right now. For the record it likes Charlotte Checkers and Rockford Ice Hogs tonight. Not official tips or anything but if you're into AHL betting I figured I'd mention that so you can explore further.
4 games tonight. I like that. I feel 6 games is the perfect number of games on a night as it gives us enough time to really dig in and analyze without overanalyzing a game. I'll take 4 though. Means I can get back to my work faster. Need to get all my work caught up on this week as this weekends going to be Red Dead Redemption 2 time!
Odds in the Panthers game is frustrating. We analyze everything before looking at the odds as we feel that can taint our analysis. I was ready to go with a risky pick of the Panthers expecting 2.20 odds and then it's basically a coinflip. Ugh. Almost makes me want to take the Islanders. Almost but not quite.
Leafs vs Jets Betting Tips:
Following on from what I wrote above – the Leafs are a team whose offense it's hard to count on at the moment so it makes things tricky backing the over here – you're basically backing it based on hope or long term expectations, as opposed to the short term.
Jets at home have been conceding a heck of a lot of goals lately but are able to score a bunch. Leafs to be honest have struggled at home all season except against the Kings but on the road have been putting them in the net with ease.
Offensively it's a pretty crazy home/road split. I've got to think that based on those stats, the Leafs will come here with confidence knowing they can at least perform in the road. And featuring goalies who are still trying to find their footing this season – I'm hoping for a fast paced competitive game.
Over 6.5 Goals incl OT/SO: 1u
Canada: 2.00 Odds at BetOnline..
USA: -105 Odds at Bovada.
Everyone Else: 2.00 Odds at BetOnline..
(Odds correct as of 2018/10/24 7:54:12 AM EST but are subject to change.)
Avalanche vs Lightning Betting Tips:
This is a tricky one as both teams come into it performing well. Big props to the Avs who had a killer road trip and looked really good.
I just think the Lightning have more depth and the Avs are riding that top line a bit too much. While the Avs are keeping teams at bay currently their opponents are racking up the chances against them and I like Tampa to take advantage of those opportunities.
Tough to bet against a home underdog who is performing well at this price but 0.5u on Tampa to win incl OT/SO.
Canada: 1.77 Odds at Sports Interaction + $20 Free Money Line Bet.
USA: -135 Odds at Bovada.
Everyone Else: 1.74 Odds at Bet365 (Americans: We recommend http://www.bovada.lv.
(Odds correct as of 2018/10/24 7:54:12 AM EST but are subject to change.)
OHL / WHL / AHL / KHL / Czech Extraliga Betting Tips:
KHL Betting Tips (3-5, -1.23u): 1u on Lokomotiv -1.5 at 1.90 odds.
Where To Bet the Non-NHL Leagues:
Canadians: Bodog and 888 Sports.
Americans: Bovada.
Everyone Else: 888 Sports.
Follow @BetNHL
BetNHL.ca » Tonights Tips »