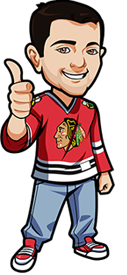 Written by Scott on Thursday, October 24th, 2019
Follow @BetNHL
First of all our apologies for those on the mailing list who didn't receive the tips e-mail until late yesterday. We are still having issues with it to the point that we are going to switch providers. Graeme will be looking into that this weekend. In the meantime just remember that tips will be posted by 12pm EST day and you just have to do a refresh on the homepage to see them.
Only the two games yesterday and I couldn't come up with a tip so decided to avoid them.
The Sens beat the Wings 5-2. Duclair scored twice for the Sens and Nilsson made 34 saves in the win. The win snapped the Sens losing streak at 4 games and pushed the Red Wings losing skid to 6.
The other game of the night was the Penguins vs the Lightning and the Lightning won 3-2. I had said that I liked the over at first but realized that both teams were struggling offensively by their standards. This was a crazy finish to the game. The game was tied at 2-2 in the final minute of the 3rd. Hedman scored in the final minute and the Pens tried hard to tie it and force OT. Letang took a shot that Vasilevskiy saved as time expired but it needed to be reviewed. It looked as though the glove may have crossed the line with the puck inside. But there was not enough evidence to overturn the call.
For the poll question we asked "Which game will be the higest scoring of the night?" With 80% of the vote the Pens vs Bolts game was the choice as it should have been. . It shows you just how weird of a season it has been when that game is outscored by the Wings – Sens game 7-5.
A much better night for us with 10 games scheduled.
Sabres vs Rangers Betting Tips:
This is a game where I have to follow each teams streak.
The Sabres have won 3 in a row and are 8-1-1 on the year. The Rangers have lost 5 straight and are 2-4-1.
The Sabres have the most points in the league where the Rangers have the second to last amount.
Theres really not much else to say about this game. The records and play of each team speaks for itself.
Sabres win incl OT/SO – 1u
Canada: 1.80 Odds at Sports Interaction
USA: -125 Odds at Bovada
Everyone Else: 1.80 Odds at Bet365 (Americans: We recommend http://www.bovada.lv
(Odds correct as of 2019/10/24 11:04:43 AM EST but are subject to change.)
Capitals vs Oilers Betting Tips:
The Caps are on a 4 game win streak and each of the 4 games has hit 7. The Caps have scored 5 times in each game but one where they scored 4.
The Oilers have lost 2 in a row and both of them were shutouts. But they now return home where they are a perfect 4-0. 2 of the 4 home games has had the Oilers score 6 goals. With them getting shutout twice in a row and now returning home I expect a better effort from them tonight. McDavid has been held pointless over the last 3 games which is only the 2nd time it has happened during his career.
Caps scoring on their streak and the Oilers looking to get their scoring back on track at home. I like this game to go over.
Over 6 incl OT/SO – 0.5u
Canada: 1.84 Odds at Sports Interaction
USA: -120 Odds at Bovada
Everyone Else: 1.83 Odds at Bet365 (Americans: We recommend http://www.bovada.lv
(Odds correct as of 2019/10/24 11:04:43 AM EST but are subject to change.)
Non-NHL Betting Tips:
Written by Graeme
(All below systems are based mainly on mathematics and statistics with very little human input and are deemed experimental. Use at your own risk.)
Czech Extraliga Betting Tips (1-1, +0.22u): 0.5u on Montfield HK to win incl OT/SO at 1.85 odds. 0.5u on Sparta Praha to win incl OT/SO at 1.85 odds.
Swedish Hockey League Betting Tips (3-1, +1.71u): It'll be too late for most of you reading this – I should have had this up yesterday – but system likes Rogle to win and they are 1.72 odds. Won't be considered a tip/part of the stats due to lateness of it.
Finland SM Liiga Betting Tips (1-1, -0.07u): 0.5u double of Karpat/Lukko incl OT/SO at 1.76 odds.
Where To Bet the Non-NHL Leagues:
Canadians: Bodog and 888 Sports.
Americans: Bovada.
Everyone Else: 888 Sports.
[poll id="20″]
Follow @BetNHL
BetNHL.ca » Tonights Tips »