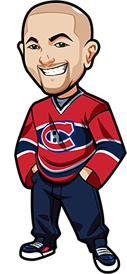 Written by Graeme on Sunday, October 24th, 2021
Follow @BetNHL
It was another excellent 2-0 night with the NHL Betting Tips.
It was an even better night in the world of hockey as the Toronto Maple Leafs got absolutely CRUSHED by the Pittsburgh Penguins 7-1.
Boy was that a joy to watch.
We had the Blues to win in regulation and they duly delivered. Early domination goals wise was what put them on track there for the big 7-3 win.
We also had the Senators vs Rangers game to go under and I ACTUALLY CALLED AN UNDER CORRECTLY.
Although not without stress!
First the Rangers announced that Georgiev was in net which surprised me. I even made an edit after the game had started saying hey if you were looking to live bet this one – don't.
It was all looking great though with Senators up 2-0, and not much long left in the game. I was at a wedding so couldn't watch the game, but was feeling like a genius.
Then it just felt like I was being shot with an uzi. As notification after notification popped up. Rangers Goal! 1-2. Rangers Goal! 2-2. Rangesr Goal! 3-2.
Boy was I sweating that one!
I also mentioned that double yesterday of Panthers and Hurricanes. Hope some people took that one at 2.85 odds as it came in!
Four games today with an early one. Let's get to it:
Bruins vs Sharks
Bruins pretty hefty favourites. Against an unbeaten Sharks team although their opposition hasn't been good – all crappy Canadian teams.
I get the feeling Sharks get found out here but there isn't enough data to really suggest it or back it with confidence. If you're looking for an early game bet I'd be on Bruins in regulation though.
Wild vs Predators
Preds are struggling right now. I'd like to take Wild in regulation but they haven't proven they can cover that. Two tight one goal regulation wins, two games that went to OT. The price isn't there for Wild in regulation. I do expect they will though.
Blackhawks vs Red Wings
Hawks I think should win but the odds just not good enough.
Knights vs Islanders
Knights continue to struggle. After some early issues, Islanders look like they have things sorted out for them.
Islanders on a B2B on a road trip that will stretch 10 days now though. Knights did look better against Oilers. I think they may squeak the win out.
No bets today unfortunately.
Follow @BetNHL
BetNHL.ca » Tonights Tips »