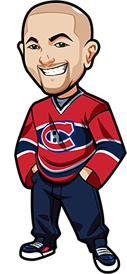 Written by Graeme on Wednesday, October 25th, 2017
Follow @BetNHL
We went 2-1 for a winning night last night with the NHL Tips. But let's talk about the biggest thing from last night – THE VEGAS GOLDEN KNIGHTS.
The Knights won their 4th in a row to make it 7-1-0 for them for the season and they did it with Oscar freaking Dansk in net.
The Knights are working very hard and putting on great defensive performances. They are quite clearly the biggest surprise of the NHL season thus far and it's truly amazing to watch.
It was an interesting one because I was looking into a lot of the advanced stats yesterday and if you took out the two team names, you'd bet on the Knights big time. As it is with Dansk in net we couldn't back them but man this is one team that it's going to be hard to ignore.
It's tricky though because prior to the season you weigh up the strengths of each teams and it can be hard to get away from that initially – and sometimes you don't want to. Look at the Red Wings who we expected to be really poor. They started off strong but are now showing their true colours.
Then you have the Edmonton Oilers who lost yet again. They had a lot of big expectations this season and are now 2-5-1. The Penguins were dominant over them as well. With some of the talent on their team you think "surely this won't last" but man – it really looks like it will.
It really was an interesting night of hockey. The Coyotes now go 0-8-1. They fought well against the Islanders but it didn't matter and the Islanders made it 3 in a row as we hoped they would.
No official tips today. Both games are hard to call.
Blue Jackets vs Sabres: You'd think the Jackets would win this one but the odds are too short on them. They had two demoralizing losses to the Kings and Tampa and with a loss against the Blackhawks too – this team isn't beating the top tier of NHL teams. That's concerning. They have to seek solace in games like against Buffalo – where they just go to town on them. In saying that Buffalo have had 3 solid road performances in a row and at the odds, I'd rather be on Buffalo.
Blues vs Flames: This is a very weird one where I want to take the Blues but just can't quite convince myself. They should be able to do the business here and it was my initial thought looking at the schedule today. However after spending a lot of time looking at it I just can't quite pull the trigger. I mean Blues are rested, Flames are on a B2B, Lack expected to be in net…probably going to regret not pulling the trigger on that one bit I just can't go with it.
Follow @BetNHL
BetNHL.ca » Tonights Tips »