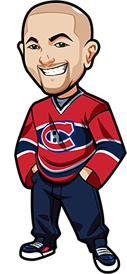 Written by Graeme on Monday, October 25th, 2021
Follow @BetNHL
Hi all,
No tips yesterday. Knights are now 1-4-0 for the season after the Islanders managed to beat them. Must admit I am surprised the Knights couldn't even get on the scoresheet yesterday.
Detroit bounced back with a big win. Bruins won in regulation as expected but it was a bit tight at the end. Preds got a nice win over the Wild.
We've got seven games on the board today. Let's go through them:
Panthers vs Coyotes:
Panthers are incredibly heavy favourites here. They've covered the puck line in their last 4 games. Coyotes in their 4 losses have lose via at least 2.
Unfortunately at -1.5, 1.71 odds is too short for me. Hockey being hockey this is one of those games that are a complete mismatch, and the underdog will probably win. Happens a few times a season, always something special.
But yeah Panthers should walk this.
Rangers vs Flames:
I said the other day I am still not sure how to rate this Flames team. I still don't. Take a huge 3-0 lead over the Caps? Blow it? Then win in OT? Yeah, that doesn't help me out at all.
I THINK they beat the Rangers here but Rangers have had some solid enough results plus only their 2nd home game. Not enough for me to bet it. Rangers mentally are looking good and motivated too. Yeah, this is one where the more I read I even lean Rangers. Definitely no bet here.
Jackets vs Stars:
Two uninspiring teams right now. This is one where there's probably enough value to bet on it going to overtime at 4.00 odds. It's not really something we can advise, but my overtime system(that I started a few years ago and posted plays from it for one season) says that's a play, if you are looking to back it.
Sabres vs Lightning:
With the way Tampa are playing right now, there is certainly value on the Buffalo Sabres to win this game.
Tampa could completely wake up and get going though.
I do think there is value here but I just don't feel great about advising it. If it were me I'd be looking at betting Sabres or Draw which is at about 2.00 odds.
Hurricanes vs Leafs:
This is just a silly line in my opinion. Almost coinflip odds and probably based more on the Leafs name value than anything else.
Look if they bounce back here then they bounce back. It is what it is. But based on performances so far this season, this is a no-brainer for me. I did spend time playing devils advocate on it, but I see no reason not to take Hurricanes to Win incl OT if Andersen is in net.
Like I said for the Sharks game – advanced metrics offense-wise, the Leafs are looking great and are due to light someone up big soon. If this is the game then so be it.
Canada: 1.90 Odds at BetOnline..
USA: -114 Odds at BetOnline..
Everyone Else: 1.90 Odds at BetOnline..
(Odds correct as of 2021/10/25 9:14:02 AM EST but are subject to change.)
Senators vs Capitals:
Senators come in having lost their last two. Capitals are unbeaten in regulation.
That Flames game was the first time the Capitals have actually played from behind I believe, which is pretty impressive.
Senators just coming off that game against the Rangers where they blew the lead in an impressive fashion. Forsberg had to go in the net and got lit up which sucked for him. He'll likely play tonight and hopefully, for him, he has a good game as that situation on Saturday sucked hard.
I feel like Caps in regulation at 1.95 odds approx is fine, but there's something about it I'm not loving. Not sure what it is but no tip for now. Might be one that I end up posting in the comments later if I like it.
Blues vs Kings:
Blues come in unbeaten through 4. I backed them in regulation on Saturday, and they duly delivered with a 7-3 victory over the Kings.
Odds are about the same for a repeat of that.
What's different about this game compared to that one? Well, Kings aren't on a back-to-back. They certainly looked tired. In that game, the penalties were the story with the Blues getting 4 power-play goals there.
This isn't the home opener either.
But Blues do get Buchnevich back. Saad is likely still out. Kings missing Doughy again it looks like. It's likely Quick is in net.
Blues may also rest Binnington and get Husso in.
Now if we discount the penalties, and look purely at 5 vs 5 in the previous game – that paints a rather different story. Kings xG 2.56 to 1.7, 40-31 for Fenwick, Corsi was even, more HDCF 13-10.
That sort of thing is a bit of a red flag for me. The Kings lost to the Stars in a similar fashion as well – due to the lack of penalty kill. If they keep their discipline here it may be a different story.
Going to say no bet on this one. This was very, very close to an "if Binnington is in net, play Blues" line but the more I look at the pure 5 vs 5 stats, the more I don't like it.
Follow @BetNHL
BetNHL.ca » Tonights Tips »