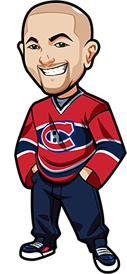 Written by Graeme on Thursday, October 26th, 2017
Follow @BetNHL
Both favourites won last night in convincing fashion. In a sport as volatile as hockey it was quite nice to see that actually.
I'd said yesterday that with their inability thus far to beat the top tier of teams, the Blue Jackets would want to go to town on teams like the Sabres. I was concerned they may be feeling down after their last couple of performances but they bounced back in style.
The Blues dominated the Flames. Like I said yesterday I really wanted to pull the trigger on that one but there was something putting me off. Congrats to those who backed the favourites in what was a nice easy night of hockey.
Busier night tonight let's get to it:
Coyotes vs Rangers Betting Tips:
You know we'd probably go with the over 6 goals on this one even if the starting goalies were in, but they're not so that makes it all the sweeter.
Hill is in net for the Coyotes and Pavelec the Rangers. Both are 0-2 on the season with Hill rocking an 0.889 and Pavelc an 0.860.
These are two teams desperate for wins. The Rangers offense hasn't been clicking but you'd have to think they'll feel confident in this one. The Coyotes are conceding goals like crazy but have also been able to put the pick into the net every game this season. Hell they even scored goals against the elitest of the elite – the Vegas Golden Knights. That's impressive.
Have to hope two desperate teams and two poor goalies results in Over 6 Goals incl OT/SO.
Canada: 1.95 Odds at BetOnline..
USA: -110 Odds at Bovada.
Everyone Else: 1.96 Odds at BetOnline..
Leafs vs Hurricanes Betting Tips:
the Canes offense is hot and cold this season and we're going to hope they're cold tonigh tas they take on the Leafs. Even if they're hot though we all know the Leafs ability in games like this and we'll hope that they can simply score more.
Darling is below 0.900 and is meant to get the start tonight. The Canes are coming off that bad 5-1 loss at home to Tampa. Leafs may be without JVR but they still feel confident enough that their lines have enough depth that it shouldn't be a concern. It could be a shootout but if so I'd back the Leafs there.
We'll take Leafs in regulation tonight.
Canada: 2.05 Odds at Bovada.
Everyone Else: 1.95 Odds at Bet365 (Americans: We recommend http://www.bovada.lv.
Lightning vs Red Wings Betting Tips:
This is one of those matchups where it just feels like it happens every single week. And yes I'm aware it happened just 10 days ago but it feels every time I'm doing tips this is one I'm always looking at and talking about.
I've always been hesitant about these matchups – these two teams just seem to have close games for the most part. Last time out we tipped Kucherov to score and he did so in a Tampa rout.
Since that game Tampa have went from strength to strength while the Wings have regressed drastically.
If the Wings upset the apple cart tonight so be it, but I'm going with Tampa in Regulation.
Canada: 1.78 Odds at 888 Sports.
USA: -140 Odds at Bovada.
Everyone Else: 1.78 Odds at 888 Sports.
Other Thoughts:
Scott liked the Canucks/Capitals Over 5.5 goals tonight and looking at things, it's a clear possibility. Decent enough price as well. It came down to that or the Tampa pick and we went with Tampa.
I also liked the Kings tonight but their odds almost seem too good. I spent a lot of time looking at that one and I read enough "Price can win this one on his own" comments – even though having watched every Habs game this season I know that not to be true – to scare me off from tipping it. I do think the Kings are a good price here but like I said it almost seems too good to be true considering both teams performances.
OHL Betting Tips:
(All below systems are based mainly on mathematics and statistics with very little human input and are deemed experimental. )
OHL Betting Tips (7-4, +2.1u): Windsor Spitfires in regulation at 1.80 odds.
OHL Betting:
Canadians: Bodog and 888 Sports.
Americans: Bovada.
Everyone Else: 888 Sports.
Follow @BetNHL
BetNHL.ca » Tonights Tips »