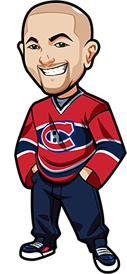 Written by Graeme on Saturday, October 26th, 2019
Follow @BetNHL
A 2-0 night last night.
Really the odds dictated both plays. Sabres were at coinflip odds but I felt they were a considerable bigger favourite. They duly delivered with a 2-0 win. Interestingly that's the 2nd time now they have followed up an in regulation loss by shutting out their opponents. Nice to see that one.
We had the Avs to beat the Knights. I was very surprised by that line as Avs were quite hefty underdogs. Felt like one of those lines set due to a teams name value, or the betting public driving that way. Either way a big win for the Avs as the Knights continue to be all over the place this season.
Coyotes had clinical finishing on hand as they beat the Devils 5-3 in a thriller. WIthout Tavares, Leafs were able to put a 4-1 win up over the Sharks. And we had a thriller to end the night, as the Caps beat the Canucks 6-5 with a shootout.
It was 2-0 in the AHL as well yesterday which was nice.
Anyone else playing that Outer Worlds video game that came out yesterday? Man that is fun. Threw it on last night to check out and was up till about 3am playing it. I both love and hate games like that. I enjoy playing them but man do they just consume my life.
It's Saturday, October 26th and "only" 9 games today. My bad I completely forgot the poll yesterday. Was in a rush. It was interesting seeing the votes from the previous poll with 41% of people, the majority, never having attended a hockey game but wanting to. Neat to see a couple of season ticket holders in the mix too.
Let's see what we got today. If you don't count the European game, this is the Blackhawks FIRST away game of the season. NHL scheduling truly is amazing.
Bruins vs Blues Betting Tips:
The Boston Bruins are just one of those teams that I like this season. There are so many teams that I don't really have confidence in yet but the Bruins aren't one of them. They have a 6-1-2 record, a lot of professional performances and just look like a team that can get the job done.
The Blues have a couple of wins coming into this one over the Kings and Colorado. They had a 4 game road trip where they started off well with wins in Ontario, before losing to the Habs and Islanders.
The schedule has been nice for the Bruins and they should come out for this one ready for it. The Blues will be missing Tarasenko.
Krejci will be out for the Bruins. That hasn't really affected things too much though.
I should note that the odds for this one are weird depending on the sportsbook. Bruins are 1.66 at B365 to win incl OT/SO but just 1.71 to win in regulation. In a situation like that, it is advised to bet the OT/SO instead. Although you should really be signing up at 888 for the better odds.
1u on Bruins to win in Regulation
Canada: 2.00 Odds at 888 Sports.
USA: -115 Odds at Bovada.
Everyone Else: 2.00 Odds at 888 Sports.
(Odds correct as of 2019/10/26 9:19:07 AM EST but are subject to change.)
Avalanche vs Ducks Betting Tips:
Avs continue to roll. Ducks are on a bad run at the moment having lost their last three games to Dallas, Nashville and Calgary.
Ducks seem like one of those teams that have to rely heavy on their goalie and defense. They will have to be on fire tonight as they take on the most accurate team in the NHL.
Colorado interestingly enough haven't played too many teams who are ranking high for GAA. Coyotes(#2) who they got 2 against in regulation. They were able to get 4 against Boson though who are the #1 ranked team for GAA.
I think the Avs have what it takes here. They'll have Francouz in net. He was great against Tampa so hopefully they can count on him again here. Ducks missing Kase.
0.5u on Avs in Regulation
Canada: 2.04 Odds at 888 Sports.
USA: -105 Odds at Bovada.
Everyone Else: 2.04 Odds at 888 Sports.
(Odds correct as of 2019/10/26 9:19:07 AM EST but are subject to change.)
Other Game Thoughts:
Hurricanes vs Blackhawks: Hurricanes seem a bit overvalued. They had a good record to start the season and can look dangerous but they're too heavy favourites here. Blackhawks are playing their first "true" road game of the season though and you never know how they'll react to that. It wouldn't surprise me if the Hawks pull it off here or are at least up for the game big time but I can't back it.
Jackets vs Flyers: I was so so close to taking the over in this one. The one crucial point that kept me away was no Jackets game other than the Pens 7-2 one has gone over 6 goals in regulation yet. The stats back up a high scoring game and these two have a history of high scoring games lately so it will likely go over. However that was enough to keep me away.
Predators vs Lightning: This one was just a big "NOPE" from me. Odds wise I think as underdogs the Preds represent value but Tampa are a tricky team to figure out at the moment.
Leafs vs Canadians: This would normally be almost a blind "Over" from us however I didn't back the over in the Leafs/Sharks game due to concerns about the Leafs offense, and they didn't look too great until the final few minutes in that one. This one will probably end up going over but I just don't feel good about recommending it. Going to be interesting to see if the extra practise the Habs have been doing on penalty killing can pay off.
Kings vs Wild: It's just hard to back either one of these teams at this point. You don't know if they can deliver.
Penguins vs Stars: Stars going one way, Penguins the other. Pens played more difficult teams though. It looks like they are getting Ruset and Bjugstad back although may take time to adjust. I like this spot for the Pens here – but just not enough to advise them. I'll be betting on it personally.
Jets vs Flames: Outdoor game and we generally stay away from those.
Non-NHL Betting Tips:
Written by Graeme
(All below systems are based mainly on mathematics and statistics with very little human input and are deemed experimental. Use at your own risk.)
OHL Betting Tips (0-4, -2u): 0.5u on Flint incl OT/SO 1.83. 0.5u on Saginaw in reg 1.90. 0.5u on Owen Sound Attack -2.5 1.91.
WHL Betting Tips (2-2, -0.15u): 0.5u on Lethbridge incl OT/SO 1.83.
Where To Bet the Non-NHL Leagues:
Canadians: Bodog and 888 Sports.
Americans: Bovada.
Everyone Else: 888 Sports.
[poll id="21″]
Follow @BetNHL
BetNHL.ca » Tonights Tips »