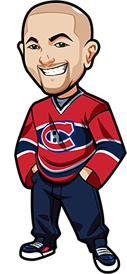 Written by Graeme on Thursday, October 27th, 2016
Follow @BetNHL
It was a 1-0 night with our only official NHL betting tip, but if you jumped on the value plays on all 3 underdogs in the other games I recommended, it was a nice 4-0 night for you.
Sorry about the lateness in the tips today. Honestly it was a very difficult night for tips despite so many available games. We've been going over them all day but can only come up with two which we'll get to in a minute. First – last night….
The Bruins came out fast and strong and went up to a 2-0 lead in the first period. This is a shining example of the high variance of our 1st period betting system. Luckily there were still 40 minute left and the New York Rangers came back to win 5-2 and get us the win.
Montreal won a hard fought game over the Islanders, while the Oilers got a big win over the Capitals 4-1. Talbot stepped up big in that one. The Oilers are now 6-1-0. It's still early days but if you talk to anyone from Edmonton you may as well just hand them the cup right now.
Anaheim pulled off a surprise rout of the Nashville Predators, winning 6-1 in extremely dominant fashion.
We move onto Thursday, October 27th. We've got 9 games on the go. Let's see what we have – going to rush through the write-ups due to lack of time:
Flyers vs Coyotes Betting Tips
We just have to go against the Coyotes tonight. To their credit they have had some fight in them in practically every one of their 5 losses so you can't write them off. Their lone win is over the Flyers too. However bad goaltending, the losing road record and a Flyers team coming off that great fight back against Buffalo – we're taking Flyers in Regulation tonight at 1.95 odds.
Blue Jackets vs Sharks Betting Tips:
Whenever a team is 2.60 odds or above we feel obligated to look closely at them to see if they're worth betting – and we see that value in the Jackets who are 2.75 odds to win.
Sharks aren't a team you can count on at the moment. They lost to a weakened Rangers team, a Crosby-less Penguins(blowing a 2 goal lead) and the Detroit Red Wings.
The Jackets have 2 wins to their name – over the Blackhawks and on the road in Dallas. They've lost to the Sharks already this season and to be fair that was a very dominant performance by the Sharks so they should be strong favourites.
We just both like what the Blue Jackets are doing. They've had some solid games and we feel they're a nice value play for today.
Blue Jackets to win.
Follow @BetNHL
BetNHL.ca » Tonights Tips »