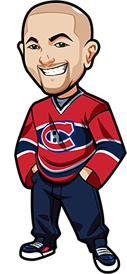 Written by Graeme on Saturday, October 27th, 2018
Follow @BetNHL
A nice 2-0 night with the NHL Tips last night. The AHL system also got off to a great 2-0 start while the WHL Tips went 1-1.
We had the Winnipeg Jets to beat the Detroit Red Wings. That one was a tad closer than we liked but the Jets were able to prevail and come out 2-1 winners. Not the fiery performance I expected but good to see their bounce back ability remains alive and well.
We also had Senators vs Avalanche to go over and that one did with ease with 9 goals. Ottawa will be sad as they did a great job at taking and holding onto the lead, only for the Avs to blow them away with four unanswered in the 3rd. But hey Duchene scored a couple so that was pretty awesome.
Two close games in the others with Tampa beating the Knights and the Hurricanes beating the Sharks. Hurricanes are one of those teams I find it extremely hard to bet against. Although the Sharks aren't at that stage yet where I could back them with confidence, even if they WERE I probably wouldn't have backed them last night. When you look at the metrics Canes are a scary team and can end up being a nightmare matchup. Last night they forced Dell to pull off 38 saves as they beat the Sharks 4-3 in the shootout.
The problem with the Hurricanes is you never know when they are actually going to turn up. It's been the same for the last two seasons. Just take a quick glance at numerous advanced metrics or hell even basic ones and you'll see the Canes floating around the top. Yet there's always a big difference in the numbers and the actual performance on the ice. One of those teams that unless there is a nice price or I have a strong feeling, I'm quick to avoid from a betting perspective.
It's Saturday, October 27th and a lot of really interesting games on the board today. Honestly not too much we're liking today. Just the two tips:
Sabres vs Jackets Betting Tips:
The Buffalo Sabres come into this game with a lot of confidence. They're starting to believe their own hype and that's not a bad thing. Their offense is gaining confidence and they've won three games in a row.
I'm a bit concerned however in regard to the teams they've beaten in this run. The horrible Los Angeles Kings, a Ducks team without Gibson and a Habs team without Price. It'll be no surprise if they're brought back to earth soon.
However I can't see the Blue Jackets being the team to do that. Columbus have some serious defensive and goaltending issues at the moment and that should give the Sabres offense confidence. Jackets offense is running hot and cold this year so far but they're coming in confident after that Blues win and hopefully they can turn it on tonight. We saw an aggressive game against the Blues and hope for more tonight.
Over 5.5 Goals: 1u
Canada: 1.87 Odds at BetOnline..
USA: -120 Odds at GT Bets..
Everyone Else: 1.87 Odds at BetOnline..
(Odds correct as of 2018/10/27 9:24:00 AM EST but are subject to change.)
Devils vs Panthers Betting Tips:
Devils have lost three in a row but it's not like they are a lost cause or anything after their great start. They do have a few injury issues but fought well against an excellent Predators side.
Panthers are a tricky team to bet against because they're a hard working lot and battle the entire game. Future schedules are interesting because the Devils go on the road for 7 games after this so you gotta think they want to head on that road trip with a win at home. Panthers are off to Finland after this one and you have to wonder if they're thinking of that trip more than anything else.
Not sure who is in goal for the Panthers but it shouldn't matter. Defensively they're not lighting it up.
Not completely sold on the Devils though and I'm always wary of the Panthers so just a small play.
Devils win incl OT/SO: 0.5u
Canada: 1.84 Odds at BetOnline..
USA: -120 Odds at GT Bets..
Everyone Else: 1.84 Odds at BetOnline..
(Odds correct as of 2018/10/27 9:24:00 AM EST but are subject to change.)
OHL / WHL / AHL / KHL / Czech Extraliga Betting Tips:
(All below systems are based mainly on mathematics and statistics with very little human input and are deemed experimental. )
Czech Extraliga Betting Tips (2-2, +0.11u): 0.5u on HC Energie Karlovy Vary at 1.90. 0.5u on HC Vitkovice -1.5 at 2.05.
OHL Betting Tips (1-1, +0.27u): 1u on Oshawa Generals incl OT/SO 1.71 odds. 0.5u on Owen Sound Attack incl OT/SO 1.76 odds.
WHL Betting Tips (7-4, +1.42u): 1u Prince Albert Raiders -2 1.71 odds.
AHL Betting Tips (2-0, +0.78u): 0.5u on Charlotte Checkers in reg at 1.75 odds.
Where To Bet the Non-NHL Leagues:
Canadians: Bodog and 888 Sports.
Americans: Bovada.
Everyone Else: 888 Sports.
Follow @BetNHL
BetNHL.ca » Tonights Tips »