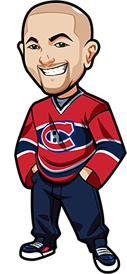 Written by Graeme on Sunday, October 27th, 2019
Follow @BetNHL
A 1-1 night for a profit last night.
Honestly I'm kind of ticked at myself for yesterdays tips though. Not the Avs/Ducks game. That's one that just didn't pan out. However at the Bruins game and not tipping 2u instead. Looking back, there was really no reason NOT to do 2u especially with Tarasenko out.
Also at not putting at least 0.5u on that Flyers/Jackets over. I had that game written up and everything. It was just one of those weird plays where the numbers dictated it'd go over, but I wasn't so sure myself. And I kept looking into it but was really skeptical. The Jackets not having a game go over 6 goals in regulation other than once was still sound reasoning – but at the very least it should have been a 0.5u play.
Frustrating look back in retrospect. However always good to look back at your previous plays as well as plays you didn't do. Sometimes it's not a case of "learning something" as much as it is just getting a refresher on something.
Leafs/Habs went over thanks to the Habs putting up 5. I thought that one would go over, but that's one I'm glad I didn't back it as it would have relied on the Habs offense supplying most of the goals and I wasn't sure they would.
Nice to see some teams get back on track like the Hurricanes and Penguins. And a nice confidence boosting win for the Minnesota Wild.
Yesterdays poll the majority of you said you bet at 2 sportsbooks with 33% of you voting that. 31% said they do just 1 sportsbook. It really will help your bankroll if you bet at multiple sportsbooks.
I know convenience is a big factor but even just 2 sportsbooks is good to have going (especially when they give a bonus). For Americans I'd say Bovada. and BetOnline.. are good options. The former has more bets than most other sportsbooks and the latter is making waves lately with better odds on everything.
For Canada I'd go with three – Sports Interaction (SIA), Bet365 (Americans: We recommend http://www.bovada.lv and a kambi book like Casumo.
Then for everyone else I'd also go with Bet365 (Americans: We recommend http://www.bovada.lv and a kambi book like Casumo.
Depending on the amount of bets you make per week, having at least 2 books on the go can probably earn you about 0.5u to 1u per week simply by choosing to bet at at least two places.
That Bruins in reg bet yesterday was the perfect example where you could get 0.29 better odds simply by having an account at 888 or Mr Green.
Here's todays poll:
[poll id="22″]
7 games on the board today starting at 4pm EST with the Oilers versus Panthers.
Islanders vs Flyers Betting Tips:
Interesting one. Philly are among the top teams in most of the offensive stats on the lead. Islanders are on the other side ranked 31st in SOG for example. That's of note because Philly defense rank top for least SOG allowed.
At a first glance, it looks like a solid Philly victory. However they are on a B2B and are now on the road. Hart will probably be in net who is 0.89 for the season. Islanders at home and while that's not a big factor yet for them this season, I do think they'll be looking at carrying the momentum on here.
A lot can go wrong here. Islanders offense overall this season is a big concern for me. But I think there's just enough for us to make this play. Hopefully Flyers have the energy for this one.
0.5u on Over 5.5 Goals incl OT/SO
Canada: 1.95 Odds at BetOnline...
USA: -105 Odds at BetOnline..
Everyone Else: 1.95 Odds at BetOnline...
(Odds correct as of 2019/10/27 10:48:14 AM EST but are subject to change.)
Other Game Thoughts:
Oilers vs Panthers: Obviously we're a bit gun shy on the Oilers at the moment. Panthers show a lot of fight but looking at Oilers results they often come out best in these battles. I strongly lean Oilers here.
Blues vs Red Wings: With Tarasenko out and the Wings desperate to end their losing streak, it could come in here. Blues being shut out last night may have hurt their confidence too. In saying that 2.30 odds just isn't enough value here for the Wings.
Rangers vs Bruins: Tricky spot for Boston and the odds mean this isn't a play. They haven't been super convincing on the road so far this year and Rangers are rested and pumped after that Sabres win. They've looked better at home. I can't bet againts the Bruins right now but if I was betting this game, I'd prefer my money be on the Rangers for some slight value.
Blackhawks vs Kings: Just hard to find any real positives in either team at the moment. Kings have the most SOG on average this season and the third highest xGF/60. I lean towards the over 6 goals (some decent similarities to Flyers/Jackets yesterday) or a Kings win honestly.
Sharks vs Senators: Sharks probably take this one. We'd have to take them in regulation. Close to making that a play. Sens have a week break though after this one and will be up for it I expect prior to the rest. Sharks are just not a team I'm ready to hang my hat on at the moment.
Ducks vs Knights: One thing we've tried to stay away from in recent years is value bets where we don't expect the team to win, but do still believe there is value in the line. The Ducks to win tonight are one of those clear value bets in my opinion. I do think Vegas win, but Ducks should probably be about 2.45 not 2.90 to 3.00. I think this is a solid value bet.
Non-NHL Betting Tips:
Written by Graeme
(All below systems are based mainly on mathematics and statistics with very little human input and are deemed experimental. Use at your own risk.)
OHL Betting Tips (2-5, -1.63u): 0.5u on Guelph in reg 1.70. 0.5u on Sarnia incl OT/SO 2.35.
Where To Bet the Non-NHL Leagues:
Canadians: Bodog and 888 Sports.
Americans: Bovada.
Everyone Else: 888 Sports.
Follow @BetNHL
BetNHL.ca » Tonights Tips »