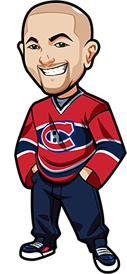 Written by Graeme on Friday, October 27th, 2023
Follow @BetNHL
Now this weekends NHL schedule is more like it!
Last week was just stupid. Two days with practically no games, and then one day with a billion games. It wasn't too fun in terms of writing tips.
I am enjoying this weekends a lot more. A nice little six-pack tonight which is my favourite setup. Tomorrow we have 9 games which after last weekend feels like a breeze. And then a little 4-pack to wrap it up on Sunday. The ideal weekend.
Also it seems things are going okay with the new mailing list server which is nice. If anyone has any issues let me know but all looks good from my end.
Let's get right into todays action. Excited to have more data to play around with.
Knights vs Blackhawks:
I expected the Blackhawks to give the Knights a tough game last weekend and they did so. Chicago couldn't get the win but it was an impressive performance.
Not really seeing too much in this game. I mean Knights handicap doesn't seem too shabby but they have been conceding a fair amount of goals lately. Their xGA is a fair bit higher than GA and with the way things are going, it looks like it'll balance out as we get more games under the belt.
Knights -1.5 is a borderline play. However at 1.80ish, it's not one I feel great taking as I feel there is a strong chance that you're sitting there praying for an empty netter to win it. The good news there is Knights have scored 3 in 5 against an empty net, although the Hawks have only conceded 1 in 4 with an empty net.
Basically I don't hate the play. Just a bit concerned with the quantity of goals conceded by the Knights lately.
Devils vs Sabres:
The Devils come in after that fun Capitals game. Lot of high scoring games for them thus far. Buffalo had that banger against hte Sens then a couple days off.
Alas, the over line of 7 is too high for me here. It just seems a bit of a gamble as I'm not quite confident enough in the Sabres offense to bring the heat. But there's certainly not enough to back the Devils in regulation here.
Nothing jumping out at me.
Capitals vs Wild:
Will that big win for the Capitals help get their season going? They host the Minnesota Wild, who got thumped last night. The Wild are one of those teams where it's still a bit hard to guage where they are in the power rankings.
If the over in this one was 6 goals, I'd take it but at over 6.5 I'm a bit hesitant. The Wild are conceding goals like crazy. Washington have had some brutal scoring issues but they got going against the Devils, and this is a GREAT team matchup wise to get going. GA/60 of 4.4, xGA/60 of 3.4, SCGA/60 3.4, CA/60 of 62.82.
So it's tricky because if you are backing the over, you're literally backing it based on the Devils game. Washington actually only had a 2.95 xG in that game too and that game was a bit mental.
This one would be a pick if it was over 6, but at over 6.5 it's a pass for me.
Hurricanes vs Sharks:
What a dismal season it has been for Carolina. They were able to scrape the OT win over the Kraken last night. Now they hope to bully the Sharks who have had an even worse start. The Canes also thumped them 6-3 on the 17th.
Alas the odds are not in our favour, with Canes -1.5 at an average of 1.68. Looking at everything it's likely they cover that, but it's too low for me. Their goaltending has been just abysmal so far.
Coyotes vs Kings:
Eh – these two just played and I'm always hesitant of backing the second leg of these games. Kings got the win there. Coyotes slight dogs. The over doesn't seem the worst bet but like I said – just played, and weirdness pops up. Happy to pass.
Canucks vs Blues:
The Canucks come in off the back of a solid couple of victories, and play just their second home game so far this season.
The Blues continue their Canadian road trip after a good win over Calgary last night. Must be something in the water in Alberta these days as both their teams are sucking pretty darn hard.
Not seeing enough to bet the Canucks in regulation, although it's close. Their offense is oevrperforming a tad and this might be a hard one to break down.
With the Canucks rested and the Blues on a B2B, I do think Canucks can probably get the W here. I expect Binnington to be in net who has been solid for most of the season except for that Jets game.
So not enough for me to make any plays today. Caps/Devils over is close, as is Canucks in regulation. Knights -1.5 is borderline but just feels too much like gamble territory for me.
Follow @BetNHL
BetNHL.ca » Tonights Tips »