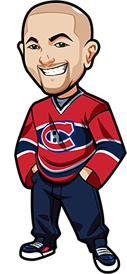 Written by Graeme on Friday, October 28th, 2022
Follow @BetNHL
It was a disappointing 1-2 night yesterday.
It got off to a good start with the Bruins in regulation. It was a nice and easy win for the Bruins, with a great return to the NHL for Marchand. No rust on that guy.
The Kraken lost 5-4 to the Canucks. Krakens issue is glaring – a complete lack of goaltending. Canucks had like 3 shots on goal in the 3rd and 2 goals. Goaltending is such a mess there, as the rest of their metrics are generally fine.
Leafs deservedly lost to the Sharks. 7th worst GF/60, but 9th highest xG/60. They just aren't converting right now like they should.
Let's look at Fridays games:
Knights vs Ducks:
Knights are very heavy favourites here. Even -1.5 is 1.80 odds. They've covered that in their last four wins but there are a few tight ones in there. Ducks are just a right disaster at the moment.
Advanced metrics generally point towards the Knights. CA/60 is quite high at 62.38 and just slightly lower than the Ducks. Goaltending is helping them, but offense seems to be performing as expected. Same with the Ducks offensively (which isn't a great sign for them).
Ducks have won of the worst HDCA/60 in the league, while Knights are 8th in HDFC/60. Which generally indicates that the Knights will generate some high danger chances here. Knights are a bit poor with converting those, bht the Ducks rank 9th worst for HDGA/60.
If we may have to rely on an empty net goal with the Knights -1.5, well Ducks have had 4 empty nets and just one conceded. Last year they were Top 6 worse for that. Knghts have played against 5 empty nets with one goal so far.
I dunno – the data is there to suggest -1.5 is probably a play, and the Ducks have been blown out a fair bit. Lot of hype for the Vegas defense at the moment but my data says that they are overperforming and we'll start to see them concede more goals soon.
I did have that concern last week with Knights vs Avs which is why I stayed away in regard to the level of team the Knights have played against. Ducks are of course on that lower level.
I just can't bring myself to back the Knights -1.5 here. I want to – which is why I've written so much – and performances against opposition similar to this indicate they cover. But I'm just not fully feeling it.
Blue Jackets vs Bruins:
Bruins coming in with the momentum from last night, and I expect will start Ullmark. Jackets rolling with Elvis who is on an 0.863 SV% with a 2-2 record. Jackets haven't been too bad. Bruins no surprise are the better team practically across the board on the advanced metrics but it's not overwhelmingly so.
The B2B is just enough of a factor to put me off. Corsi wise, starting to see the Jackets trend upwards. The Bruins had that messy second leg B2B vs the Sens Probably why they went with Swayman last night. Krejci out as well. Just enough factors to skip.
Devils vs Avalanche:
Devils had a brief successful road trip to Detroit, and now come home to host the Avs. Colorado have been a disappointment results wise this season. Devils are about 2.15 underdogs here. Not the odds you would have expected before the season began. Quite tight.
Devils are outperforming the Avs in most metrics. What is very impressive by the Devils, is they have an xGF/60 of 4.04, the current highest in the league.
Buuuut it hasn't exactly been a murderer's row of teams they have played to earn said xGF. Islanders hve the worst xGA in the season right now, Ducks #4 etc. Georgiev in net it sounds like and he has been a bright spot for the Avs.
This will be a big test for the Devils and we'll see where they are at after this one. It's one of those where the advanced metrics only tell part of the story. If you JUST look at those then boom, Devils are easiest bet of the day. But when you start looking at where they got those stats from, it's not so obvious.
Hurricanes vs Islanders:
Surprised to see the odds on the Canes in regulation here. They've certainly stumbled a bit lately, but road trips can wear a team out.
Islanders did manage to get the big win over teh New York Rangers, but they haven't shown anything this season.
As always, the Hurricanes have ludicrous advanced metrics. They have been looking great on the ice.
Having bet hockey so long, there's not much that surprises me anymore. But this is one where I would be quite surprised not to see a Hurricanes dominant performance. The only thing I can think of would be if it is one of those infamous "let-down" spots we see in sports.
Hurricanes in Regulation
Ontario: 1.90 Odds at Bet365 (Americans: We recommend http://www.bovada.lv
Canada: 1.90 Odds at Bet365 (Americans: We recommend http://www.bovada.lv
USA: -130 Odds at Bovada
Everyone Else: 1.90 Odds at Bet365 (Americans: We recommend http://www.bovada.lv
(Odds correct as of 2022/10/28 11:01:15 AM EST but are subject to change.)
Canucks vs Penguins:
I think I'm resigned to never betting the Penguins on the road. I haven't trusted them on teh road for years now. No bet on this one.
Coyotes vs Jets:
Coyotes record their second win of the season against the Blue Jackets. Anther fun high scoring affair. Jets on their second road game in a row after beating the Kings last night. The poor goaltending the Kings has helped the Jets last night.
That was a neat one as I wrote about it on the Patreon I run with my buddy Vin (where I post NHL advanced metrics analysis on days where Scott writes here). Called it pretty much on the money:
These two teams are incredibly close in CF% and FF%. So it's a close matchup. The difference is poor goaltending on the Kings. The Jets though haven't been able to take their chances. But an SCGA/60 for the Jets at 1.66 compared to the Kings 3.33 is nice. Looks like a potential upset game with the Jets winning.
As for this matchup? Jets are a team I always find hard to trust and they need to earn my trust more. Looking at the metrics, I feel like it signals an over. The Coyotes xGF/60 is low, but they're converting well and the Jets should concede a few here. But the line is set at over 6.5 and just about 1.76 odds. Not sure how much energy the Jets will have on the B2B so skipping this one primarily due to that.
Follow @BetNHL
BetNHL.ca » Tonights Tips »