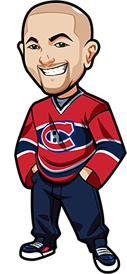 Written by Graeme on Friday, October 29th, 2021
Follow @BetNHL
1-1 yesterday for a slight winning day thanks to that healthy price on the Sabres to win.
That game went to overtime with Buffalo pulling it off which was awesome.
We lost in the over on Flames vs Penguins. That's hockey for ya. Penguins had an xG of 4.02 in that game. Markstrom was absolutely phenomenal in that one.
That was the most saves in a shutout since the Flames relocated to Calgary. Very impressive stuff and if we're gonna lose – might as well be in that sort of fashion.
We also dodges a couple of big bullets yesterday. I really wanted to play the Sharks yesterday. Scott really wanted to play the Wild. Yet neither of us could agree or convince the other so it was no play on either.
Both teams got absolutely obliterated yesterday so yeah that was a nice little sigh of relief. Sorry Gretzky -sometimes you DON'T take the shots and it's considered a hit!
Here's our thoughts on todays games:
Capitals vs Coyotes:
Capitals yet to lose in regulation. They've been a bit sloppy at times in terms of conceding goals. Crazy as they have the best overall CA/FA /60 rates in the league.
They should win. Very likely in regulation. Likely by the handicap too. Oshie might be out.
The odds aren't great. Samsonov likely in net and he has been very leaky.
But I think we just gotta take Caps -1.5 here. Just from the performances and results of both teams this season it still seems like a play. If it doesn't pan out well welcome to the world of hockey betting.
Capitals -1.5
Canada: 1.80 Odds at Casumo
USA: -130 Odds at GT Bets..
Everyone Else: 1.80 Odds at Casumo
(Odds correct as of 2021/10/29 9:50:36 AM EST but are subject to change.)
Hurricanes vs Blackhawks:
Won't comment too much on everything going on. But I just hope if he plays tonight, Toews gets his shit kicked in. Like that Tavares hit in the playoffs? Gimme about 3 of those please.
As for this game – it's similar to the game above. You've got a really good team against a really bad team. This one you've even got a really good price on it. One team is in disarray.
The big question of course is whether Andersen plays again. Dude has been excellent but they might go with Raanta.
I'm not going to overthink it. I'm even willing to roll the dice if Raanta is in net.
Hurricanes in Regulation
Canada: 1.82 Odds at Casumo
USA: -124 Odds at Bovada.
Everyone Else: 1.82 Odds at Casumo
(Odds correct as of 2021/10/29 9:50:36 AM EST but are subject to change.)
Rangers vs Blue Jackets:
Rangers returned from that road trip and got SCHOOLED by the Flames. Can they pick themselves up against the Jackets?
Thing is when you look at their results – it's not like they have beaten a murderer's row of teams. They have been blitzed by good teams like the Caps and Flames.
Jackets are crazy heavy underdogs here at 2.60 and above odds. If you look at the adavnced metrics it is VERY close. Rangers of course have a worse GA/60 and xGA/60.
I don't think I can advise them to win – but man the Jackets to me look like a solid value play. This Rangers defense has underlying issues. I'd price the Jackets at 2.20 myself.
So yeah if you want a value bet – this is a good one to get. Had a quick look and the best odds are
Red Wings vs Panthers:
Panthers very heavy favourites. Joel Q now out. That may affect things. I don't like it as much as the Jackets one but there is some small value on the Wings here to win I think. They have generally performed well at home this season, just battled hard against the Caps etc.
Golden Knights vs Ducks:
Feels like Knights should win here. Ducks aren't a good team and their goaltending isn't able to bail them out. But with Patches & Stone still apparently out I can't bring myself to bet the Knights.
Stars vs Senators:
Is it unprofessional of me to say I could not care less about this game? My god the Stars just feel so mundane to me this season.
These two played on the 17th and Sens got the win there. This is another one where I feel like there is small value on the Sens. Especially if Khudobin is in which is projected. But then it's likely to be Forsberg for Sens. This is one where if I was to back it I'd probably look at Senators or Draw myself. But I'm not.
Follow @BetNHL
BetNHL.ca » Tonights Tips »