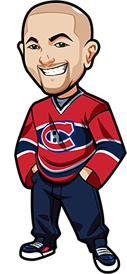 Written by Graeme on Saturday, October 29th, 2022
Follow @BetNHL
Well colour me surprised as the Islanders were able to beat the Hurricanes, and in relatively easy fashion.
It was a very disappointing performance from them. The defense just kept making mistakes, and the Islanders were able to pounce on each one. The fact that they couldn't capitalize on that 5 on 3 PP was frustrating as that would have been the spot to right the ship.
The Knights covered the handicap with ease and that is one that I am frustrated I didn't back, as I really wanted to yesterday. I'm actually also sort of regretting not backing the Bruins, although the odds were poor and it would probably have been in regulation. Starting Ullmark there and Swayman the previous night, you knew they meant business.
A huge win for the Canucks. Never trust the Pens on the road. How about those Devils? They passed a big test there and were the better team in most of the advanced metrics in 5 vs 5. Very impressive.
Let's look at Saturday where we've got a lot of decent/heavy favourites. If you're a subscriber of The Athletic, they have a pretty good article on the NHL surprises so far.
Stars vs Rangers:
Close odds game. Stars coming off that solid win over the Caps to continue their perfect home record. Rangers are stumbling a lot at the moment. They got the shots against the Islanders and were very unlucky in that one.
Rangers are getting the chances and they gotta start getting all the goals. xGF/60 of 3.95 but a GF/60 of 2.72. Stars have relied heavily on goaltending.
It's where NHL betting can be so tricky at times. For a game like this, the Stars goalie will play a huge part in the final betting outcome. Both teams create a lot of chances, and concede a lot of chances. So the over/under and the outcome could rely heavily on Jake Oettingers performance.
However even if he does concede a few goals, the Stars generally have the firepower to compete with them. It's a bit tight one but I think there's enough to back the Stars here.
Stars win incl OT/SO
Ontario: 1.91 Odds at 888 Sports.
Canada: 1.91 Odds at 888 Sports.
USA: -108 Odds at BetOnline.
Everyone Else: 1.91 Odds at 888 Sports.
(Odds correct as of 2022/10/29 11:58:26 AM EST but are subject to change.)
Panthers vs Senators:
Panthers coming in off a couple of losses will be looking to right the ship here. Ottawa you can't really factor in as doing anything at the moment due to their first road performances of the season. Gotta figure the heads will be down a bit after not being able to have a perfect home record. Feels like yeah Panthers should take this one. Despite recent results, their Corsi is peaking. Bobrovsky is a bit of a liability at the moment though, and with this Sens team and their goalscoring and xGF/60, I'm happy to pass.
Sharks vs Lightning:
I'm fine passing on Tampa at the moment. Probably should win here but the odds are dumb considering their performances at the moment. The metrics are actually close enough that backing the Sharks probably isn't the worst thing in the world. An +EV gamble although not one I can advise. Sharks have a bit of a torrid record against Tampa in recent times.
Flyers vs Hurricanes:
Flyers continue to get no respect from the books. Canes on a B2B on the road struggling, and Flyers are like 2.50 odds. Just beat the Panthers, and have some solid results. Very impressive they are doing this with some key players out.
Canes weren't that impressive on the bounce back last season. 2nd leg of back to back results was a mixed bag as well for them. Raanta projected and we haven't seen too much of him this season.
When you're betting against the Canes, you pretty much have to ignore their advanced metrics as they are always a juggernaut in that. Looking purely at the Flyers metrics despite the results, they are concerning. Again it's a game where they will rely heavily on the goalie, and also finishing above the grain.
I went into this hoping to back the Flyers, and it does seem a sweet spot for them, but they just seem to be overperforming and the way the Canes play, this could be a game where they get found out.
Sabres vs Blackhawks:
After a sweet start, the Sabres have dropped points to the Habs and Kraken. They'll now look to get back on track against the Blackhawks. I mentioned the Flyers being found out – that's already happened to Buffalo, who were drastically overperforming to open the season.
Blackhawks have been feisty lately and had that big high scoring game against the Oilers. Sabres are certainly better in the advanced metrics, but not anywhere near enough to back them here. The Blackhawks still haven't earned my trust. After all those results, it wouldn't surprise me to see them lost 1-0 in a stinker.
Red Wings vs Wild:
Detroit have had two tough losses in a row. Complete opposite of the Wild who started poorly but have started picking up the Ws. Detroit were unlucky to concede so many PPGs.
Detroit decent size underdogs here. The advanced metrics generally have Wild as slight favourites but not overwhelmingly so.
Fleury projected to be in net and they are confident in him at the moment. I don't think the Wild should be as big favourites as they are, but their biggest issue has been conceding goals and if Fleury is heating up then that will be an issue.
I expect it's Fleury but if not – Red Wings incl OT/SO if Fleury isn't in net – Confirmed it is not. It's Gustavsson.
Ontario: 2.45 Odds at Bet365 (Americans: We recommend http://www.bovada.lv
Canada: 2.45 Odds at Bet365 (Americans: We recommend http://www.bovada.lv
USA: +140 Odds at Intertops.
Everyone Else: 2.45 Odds at Bet365 (Americans: We recommend http://www.bovada.lv
(Odds correct as of 2022/10/29 11:58:26 AM EST but are subject to change.)
Blues vs Canadiens:
Blues haven't played too many games at home. Massive favourites here, biggest of the day. Habs just got that nice little win against Buffalo. The metrics don't have them anywhere near that big a favourite. Blues 5 on 5 metrics are dire right now. Honestly I'd back the Habs if Binnington wasn't in net. 3-10 and only 1.74 GAA is offputting. Feels like a game where the Habs will run tehm close, but just come up short.
Kings vs Leafs:
Kings are slight underdogs here. There's no way you can take them with their goaltending, and going up against this offense Yeah the Leafs offense is underperforming big time at the moment but this should be a great spot for them to pile on the goals. I don't have enough confidence in them to advise, unfortunately.
Islanders vs Avs:
Both teams on a B2B. I'm happy to skip that. Odds seem about right anyway. One of those where I do think you could convince yourself with enough reasoning to back the Islanders here. But Georgiev projected and he has been decent this year.
Predators vs Capitals:
Preds turned the corner with a nice win over the Blues. Caps just had that tough loss to the Stars to stifle their winning run. Very close game by the metrics. Preds a slight edge, which the odds reflect. No value play here.
Flames vs Oilers:
A game where the first thing you always do is check out the over/under line. They had a 7 goal thriller a couple of weeks ago. Line is set at over/under 6.5.
I'm fine with it. Both teams combined for 7.5 goals/60 at the moment. GA/60 is a bit lower especially on the Flames side of things, but both teams have high xG on both sides of it.
Over 6.5 incl OT/SO
Ontario: 1.81 Odds at Sports Interaction (SIA) - Non-Ontario bet $10 get $200
Canada: 1.81 Odds at Sports Interaction (SIA) - Non-Ontario bet $10 get $200
USA: -118 Odds at BetOnline.
Everyone Else: 1.80 Odds at 888 Sports.
(Odds correct as of 2022/10/29 11:58:26 AM EST but are subject to change.)
Kraken vs Penguins:
Kraken are coinflip odds here. It really is a coinflip. It's all about whether they score enough goals to counteract the goals their goaltending will concede.
Pens on a B2B. Brutal road trip for them thus far.
I'd love to back the Kraken here, but despite the Penguins tough run, the metrics don't agree. Primarily due to all of the goals the Penguins scored early on and how capable they were back then.
I think if they were about 2.25 odds, I'd go with them. At 2.00 odds, I feel fine with passing despite how dismal the Penguins have been at the moment.
Follow @BetNHL
BetNHL.ca » Tonights Tips »