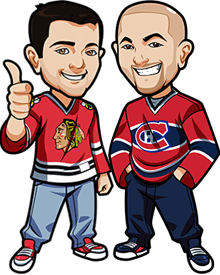 Written by Graeme & Scott on Wednesday, October 2nd, 2013
Follow @BetNHL
Well a 2-1 night last night.  The Grand Salami line of over 16.5 was burst with ease, with a total of 26 goals – a whole 9.5 goals over the predicted line.  Very nice, and easy money.  The Habs/Leafs also got us off to a winning start with a goal before 9:30 in quite a thriller of a match.
Our only loss was picking the Oilers to beat the Jets.  After a battling first two periods where the Oilers emerged ahead – the Jets managed to shut them out in the 3rd while scoring 2, and racking up the 5-4 victory.
Just a quick note for those who didn't read the "State of the site address" from a few weeks ago – both myself and Scott are off to Mexico this week.  He's actually in Mexico right now and I'll be there on Thursday.  Hopefully it won't interrupt the tips and we're doing what we can.  We had a brief chat this morning over WhatsApp about todays games, and now I'm sitting here in a hotel with broken wifi in Toronto typing up the tips before transferring them to my phone to log in and post!
Before I get to the tips I wanted to mention something else you may be interested in – Fanduel Daily Fantasy Sports.  Basically instead of doing a fantasy sports league for a whole season you do it for just ONE DAY.  It's pretty cool and a great way to have a fun hockey night.  So tonight for example you'd pick the best players to field out of all 6 teams that are playing today.  I'm hooked on it and do it at least once per week – so head on over to Fanduel and check that out.
Onto tonights games:
Leafs vs Flyers: Flyers To Win
Toronto just had a brutal three period game last night to open the NHL season.  Now they have to travel to a fresh Philadelphia?  Yeah, this isn't going to go well for the Leafs.
Flyers have quite a few debuts tonight, and have two strong goaltenders to choose from.  On home ice against a tired Toronto team the Flyers are going to be taking this one.  Toronto took advantage of special teams last night but Flyers will be wary of that tonight and will be a lot more conservative, shutting the Leafs down.
We like the Flyers to win this one.  The handicap is tempting but this early in the season I think I'd rather wait and see how the teams match up first.  Bet the Flyers to win at 1.76 odds at http://www.5Dimes.eu for Americans(Need to register to see lines) and and http://www.Bet365.com for everyone else..
Grand Salami: Under 17.5
Last night, the Grand Salami line was 16.5 and was blown away.  The sportsbooks have adjusted that and added an extra point to it.
However there's a good chance that there will be less goals tonight.  As said, the Leafs will be tired and we're expecting a quieter game in that one.  Ducks are missing two defenders but Beuachemin is returning which is a huge boost to the D.  The Red Wings-Sabres have never really played too often, but in general matchups the goals are never there.  I'd say the Sabres-Red Wings game is the only concern – Alfredsson looked good during pre-season while Sabres have a nice offense set with Hodgson the top-line center.
Either way, the extra point added to the Salami line was a reactionary move by the sportsbooks and one we'll be hoping to take advantage of.  You can bet the Grand Salami under 17.5 at http://www.5Dimes.eu(Need to register to see lines).
Red Wings/Sabres: Goal Before 9:30
Like I said – this is the one game that concerns me when it comes to the grand salami.  But with the offenses on display, I think there is a very good chance of an early goal.  The Sabres line will be out to prove something, and you can hopefully bank on Alfredsson continuing his hot form.
Bet that there will be a goal before 9:30 in this one at http://www.Bovada.lv for Americans and http://www.Bodog.eu for everyone else..
Follow @BetNHL
BetNHL.ca » Tonights Tips »