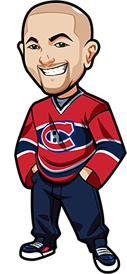 Written by Graeme on Sunday, October 30th, 2022
Follow @BetNHL
Hi everyone,
It was a 1-2 night last night thanks to a decent underdog win, an untimely and crucial injury, and what I feel was just a bad call on my part.
We got the nice underdog win with the Red Wings. 2.45 odds for that which was nice.
I emphasized yesterday how important Oettinger was for the Stars, and unfortunately he got injured in that game and Wedgewood got lit up. While he had already conceded twice in that game, it was still a massive loss and Wedgewood let in a couple of softies. Rangers xG only jumped from 3.306 to 3.712 between 3-3 and 6-3. Stars also seemed to lose all faith going into that third period. Nothing you can do about that – injuries happen.
However I do want to apologize for the Oilers/Flames over, which in retrospect was not a good play. I just didn't pay enough attention to the goalies in that matchup. In particular, Stuart Skinner. He has been overperforming in the few games we have seen him, and that combined with the Flames GA/60 should have resulted in me passing on the over in that one.
As it is, Flames had an xG of 3.49 but only scored 2 as Skinner performed very well again, stopping 40 of 42 shots. So my bad on that one – that was a bad call by me. This isn't results-orientated either; early in the game I was thinking about it more, looked up the data and knew that win or loss, it was a bad call.
Let's jump right into Sundays action. Bunch of B2Bs which over the years I've grown to hate. Not really sure why that is.
Devils vs Jacket:
Devils proved themselves as they beat the Avs in a big test. Was nice to see. Jackets got thumped by the Bruins. Sometimes there is games where I feel I just don't need to write that much about. Devils are the better team, are proving themselves, have solid odds in regulation.
The only real two concerns are (1) the good ol let-down spot, and (2) all the drama involving Elvis and his family getting death threats etc. It's weird to factor stuff like that in but that sort of thing can band a team together. And goalies are weird dudes – can motivate him to become a brick wall.
But it is what it is. Things like that happen, let down spots happen. If they lose, that's hockey. No need to overthink it. Devils in Regulation.
Ontario: 1.80 Odds at Bet365 (Americans: We recommend http://www.bovada.lv
Canada: 1.80 Odds at Bet365 (Americans: We recommend http://www.bovada.lv
USA: -140 Odds at Bovada
Everyone Else: 1.80 Odds at Bet365 (Americans: We recommend http://www.bovada.lv
(Odds correct as of 2022/10/30 12:00:46 PM EST but are subject to change.)
Blackhawks vs Wild:
Wild resting Fleury yesterday so guess they are more focused on todays game. Books have them waaaay too heavy favourites for me to back them here. And unlike yesterday, by the metrics the Blackhawks aren't really worth considering. Not that I'm writing them off or anything – but it just doesn't really jump out as a value play for me.
Coyotes vs Rangers:
Rangers are just so inconsistent to back right now. They put on a better performance yesterday for sure although that Oettinger injury sure helped. Feels like the Coyotes could run them close here. That's just a gut feeling. Alas I am not seing anything in the advanced metrics to back that up. Especially when you look at high danger chances. Rangers 2nd highest HDCF/60 in the league. Coyotes worst HDCA/60 in the league.
That spells trouble for Arizona. The one bright side is the Rangers are slightly below average at converting those, BUT the Coyotes are the worst for actually conceding them.
So if you're considering Rangers -1.5 then I'd say that is probably fine. Or actually Rangers in regulation is decent too. But back to back, on the road, inconsistency, Halak probably in net. Yeah I can't back that.
Ducks vs Leafs:
Nothing here. I mean the way the Leafs are playing, Ducks at 2.55 when they are rested probably isn't the worst thing in the world. They've only had two home games and been okay. As you can imagine, the adavnced metrics don't back the Ducks up at all. It wouldn't be a surprise if the Ducks win, but I can't back it.
Knights vs Jets:
Bookies have the Knights as heavy favourites here. Advanced metrics give them a slight edge. Their goaltending and defensive stats are very solid right now. Jets on the roads been a bit rocky, these teams just played here and Knights won 5-2. Just can't see backing Winnipeg here.
Their offense has came to life last few games but different animals. Yeah I think with the Knights defensive metrics, we're good to back Knights in Regulation. They're slightly overperforming due to good goaltending, but not enough that has me concerned.
Actually I don't know why – but just as I thought about this one more, I don't like it. I think looking at the odds and seeing 1.76 as the best I could get, it put me off for whatever reason. I know it's miniscule but feels like at least 1.80 is what I'd want here. I'm going to pass but this was very, very, very close to a play.
Follow @BetNHL
BetNHL.ca » Tonights Tips »