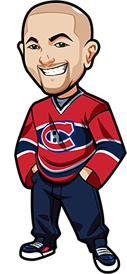 Written by Graeme on Monday, October 30th, 2023
Follow @BetNHL
1-1 yesterday.
The win was the Over 6.5 goals in Devils vs Wild. Like I said yesterday that looked like a real paint-by-numbers pick. They don't always come in due to variance, but it's always nice when they do as it reaffirms confidence in the data.
The loss was the Avs losing the race to 3 goals. The Sabres blanked them out. Just a terrible performance by the Avs, and with that being on the back of being blanked out by the Pens – man, that is a concern. They had issues like that last season if I recall, and that's a worry.
Big Monday slate. Apologies for lateness had a busy morning.
Knights vs Canadiens:
Knights in regulation would be the only play I'd consider and it's barely one at 1.71. But man things have been tight for them as of late. And the Habs are only rocking two in regulation losses.
The Habs defensive metrics are pretty piss poor but their offense is still ticking consistently and making things competitive. And I've said twice now that I'm concerned about the Knights defensively. Against an offense that is producing, I'm happy to pass at those odds.
Coyotes vs Blackhawks:
Man Western Conference final preview here or what? Two massive juggernauts! Looking at the metrics – bleh. Slight edge to the Coyotes. Bookies have them at 1.57 eh – I'd probably price them more at about 1.66 myself. Chicago ain't a team I have any real confidence in backing though.
Stars vs Jackets:
Dallas with their first in-regulation loss to the Leafs. Jackets shunned by the Islanders. Edge goes to the Stars. Way too heavily favoured for my liking.
Jets vs Rangers:
Not seeing much in this matchup. I'd give the Rangers the slight edge due to their defensive metrics but even then it's very close and that's negated by them being on the road. No play here.
Islanders vs Red Wings:
Islanders shut out the Blue Jackets and now host the Detroit Red Wings. The Wings have had two tough games on the trot after an excellent start to the year. Not one I am going to back, but an interesting matchup. The Red Wings offense appears to be running cold right now, but their overall metrics for this season are nutso so I'm curious to see if this is just a blip, or if things are balancing out. For the sake of entertainment, I hope it's the former.
Bruins vs Panthers:
Bruins favourites here and if we were to take them it'd be in regulation. They have had a very solid season thus far. The Panthers have been a bit mixed. They've won two on the trot but I mean it's the Kraken and Sharks.
This is their biggest step up in opposition, and I just don't think they are ready for it. If they are then great good for them. Not seeing anything to put me off the Bruins – of course thats' actually without looking at the data ha.
Bruins scoring more, conceding less. Bruins xGF/60 is on point with goals scored, and goaltending is a big factor for them. But I mean Ullmark has been generally solid.
Panthers should be scoring more – they are creating the chances and their SCGF/60 is quite low. SCGA/60 isn't too bad.
Honestly this is one where just my general betting & hockey knowledge etc has me wanting to take the Bruins. When I look at the data, it's less clear cut. If we go by the data, it's a lot tricker. So I'm going with it – but just a note that the data doesn't really back it up today. Bruins in Regulation.
Ontario: 1.95 Odds at Sports Interaction (SIA) - Non-Ontario bet $10 get $200
Canada: 1.95 Odds at Sports Interaction (SIA) - Non-Ontario bet $10 get $200
USA: -105 Odds at Bovada
Everyone Else: 1.95 Odds at Bet365 (Americans: We recommend http://www.bovada.lv
(Odds correct as of 2023/10/30 3:16:34 PM EST but are subject to change.)
Penguins vs Ducks:
Pittsburgh aren't really backable right now. But there's not enough to back the Ducks here on their 4th straight road game. Like the Pens vs Sens game – I won't be surprised if the Pens lose, but I don't have enough confidence to back the Ducks, despite the decent value.
Flyers vs Hurricanes:
The Flyers coming off that big Ducks loss. Looks like they will be a goalie dependent team for the next little while. Hart is starting tonight. Canes have Freddie starting, who is 3-0-0 although with a brutal 0.875.
Flyers are big dogs here which is interesting. Canes have struggled so far and the Flyers have played well against good teams.
I'm hesitant to look at the data because the Hurricanes are usually always a fantastic team when it comes to the advanced metrics. But aight let's see here. Corsi and Fenwick yep much better. Obviously their offense is producing better than the Flyers. Their xG is better too.
Defensively – I mean Flyers are doing better in those spots both defensive and goaltending wise. And Flyers still with a higher SCGF/60. Canes have a brutal PDO of 0.954 which isn't a surprise.
Canes did manage to blank the Sharks. But looking at their metrics I'm not really seeing massive improvements to where their defense is trending upwards.
I'm not seeing enough to keep me away from Flyers incl OT/SO.
Ontario: 2.65 Odds at Bet365 (Americans: We recommend http://www.bovada.lv
Canada: 2.65 Odds at Bet365 (Americans: We recommend http://www.bovada.lv
USA: +165 Odds at Intertops.
Everyone Else: 2.65 Odds at Bet365 (Americans: We recommend http://www.bovada.lv
(Odds correct as of 2023/10/30 3:16:34 PM EST but are subject to change.)
Lightning vs Kraken:
Tampa will be coming into this one with some confidence, no doubt. Kraken are in that spot where it's hard to figure them out but they clearly aren't backable. Tampa still overall this season have some defensive issues. This is starting to balance out of course Their Corso is improving big time while the Krakens is going down.
Tampa riding with Johansson who has been solid thus far. I think my only concern here would be if Kraken start producing more goals. They should be at some point, but even then it's not overwhelming.
Lightning in Regulation
Ontario: 2.10 Odds at Sports Interaction (SIA) - Non-Ontario bet $10 get $200
Canada: 2.10 Odds at Bet365 (Americans: We recommend http://www.bovada.lv0
USA: +110 Odds at Bovada
Everyone Else: 2.05 Odds at Bet365 (Americans: We recommend http://www.bovada.lv
(Odds correct as of 2023/10/30 3:16:34 PM EST but are subject to change.)
Follow @BetNHL
BetNHL.ca » Tonights Tips »