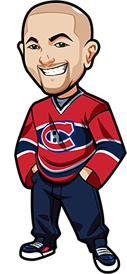 Written by Graeme on Sunday, October 31st, 2021
Follow @BetNHL
Happy Halloween all! I will be doing my usual fireball costume and handling out fireball jello shots to the parents.
We also have a fog machine set up outside and had a Halloween party yesterday for my daughter and her friends. No joke – 6 different people came by banging on the door or ringing the doorbell like crazy – worried that our house was up in fire. Nice of them to do that though haha.
A 1-1 day yesterday.
Winnipeg let us down in a fashion that they have let us down many times before unfortunately – by forgetting to show up.
I've seen that sort of performance from the Jets before and it is so frustrating – especially with the late news that Sharks were missing like a billion players due to COVID. To make it even more frustrating they gave us a lifeline with OT, then coughed up a penalty and lost.
I hate the Jets.
Blues in regulation came in on a tight one in a very low scoring night of hockey.
Another bullet dodged with the Penguins – that was an initial pick until I got to the odds and analyzed it. Preds did get the win like I thought but it was a very, very tight one.
I said that the Kings offensive metrics would result in goals eventually it seemed and they went to town on Montreal. Always enjoy seeing that sort of thing.
Let's see what we got for Sunday:
Hurricanes vs Coyotes:
Well Coyotes ended up making it tougher for the Caps than expected. We took Caps -1.5 there. Caps had an xG of about 2.89 but only 1.72 5 on 5.
Mathematically I'd say Hurricanes -1.5 is well worth the play. Matinee game and they can be weird with low energy but I see no reason not to take it. Especially if Andersen is in net as projected – his record and the Canes record should be enough to motivate them.
Canada: 1.76 Odds at Casumo
USA: -140 Odds at Bovada.
Everyone Else: 1.76 Odds at Casumo
(Odds correct as of 2021/10/31 10:25:23 AM EST but are subject to change.)
Kings vs Sabres:
Kings coming off that big win over the Habs. Their home performances haven't been too bad this year.
By the metrics, Buffalo are probably worth a punt especially with them rested.
The Kings offensive metrics are good. This is their second back to back. They did manage to get 3 against the Blues in their previous one.
This one I feel there may be razor thin value on the Sabres but I just don't quite have enough confidence to back it.
Ducks vs Canadiens:
Habs on a back to back. Ducks at home where they have had decent enough performances. Their offense has been doing very well too. Getzlaf looking to break Selanne's scoring record.
Yeah I feel fine backing Ducks to win incl OT/SO here. Ducks defensive metrics are a disaster but their offense is doing well right now, and the Habs offensive metrics are poor. Great spot for the Ducks to step up.
Canada: 1.98 Odds at Casumo
USA: -104 Odds at BetOnline..
Everyone Else: 1.98 Odds at Casumo
(Odds correct as of 2021/10/31 10:25:23 AM EST but are subject to change.)
Devils vs Jackets:
I was surprised that the Jackets got rocked by the Rangers the other night. I expect a bounce back game for them. Devils I am still figuring out. On a back to back here I'd think there is value on the Jackets at slightly above coinflip odds. But then I saw value on them the other day against Rangers and that was um slightly incorrect.
I think the top line for Jackets rocks it tonight but I'll stay away.
Kraken vs Rangers:
Kraken come in on the back of two excellent home wins. Rangers have a good road record so far. This is one where the odds – close to coinflip – feel just about right for me. No bet.
Follow @BetNHL
BetNHL.ca » Tonights Tips » October 31st, 2021 NHL Betting Tips