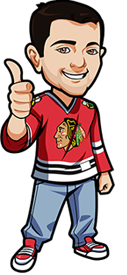 Written by Scott on Monday, October 31st, 2022
Follow @BetNHL
Happy Halloween everyone.
We had 1 tip yesterday and it was the Devils in regulation against the Jackets. The Devils got by the Jackets, but just barely.  They won 7-1 and outshot the Jackets 53-21. The Devils look great so far this season.
The Wild beat the Hawks 4-3 in a shootout and for the Hawks this was the 2nd game in a row that needed extra time.
The Ducks beat the Leafs 4-3 in overtime.  The win stopped the Ducks 7 game losing skid and the Leafs have now lost 4 straight.
The Knights beat the Jets 2-1 in overtime.   There was no goals until the 3rd and Eichel and Stone both had a goal and an assist.  The final game of the night was the Rangers vs the Coyotes and the Rangers won 3-2.
Only 3 games today but there wasn't anything I liked enough to make it a tip.
Red Wings vs Sabres
Both teams are coming in to this off of wins. The Wings beat the Wild 2-1 and the Sabres beat the Hawks 4-3 in overtime.
They both have 10 points so far this season.
This should be a close game and the metrics give the Sabres a slight edge.  But the Wings have had a decent season so far so it's tough to bet against them in this game.
Capitals vs Hurricanes
Like the game above, both teams are coming off of wins.  The Canes have 11 points and the Caps have 10.
So far the Canes have been a much better road team where they have gone 4-1-1 but at home have only gone 1-1.  The Caps are a better home team going 3-1 vs their road record of 2-3.
I like the Canes to win but they are heavy favorites here and we would need to take them in regulation and 2 of their last 4 games needed extra time. I have to skip this one.
Kings vs Blues
The Kings beat the Leafs in their last game and the Blues have lost 4 in a row.
As much as I want to bet on the Kings to kick the Blues when they are down I feel like the Blues need to win this game at home and bring their record to 4-4 to end the month.  But the Blues aren't scoing enough at the moment and aren't playing great defensively.  They rank 29th in GPG and 26th in GAPG
I don't know who wins here.  I would lean towards the Blues but they haven't been playing very good.
Follow @BetNHL
BetNHL.ca » Tonights Tips »