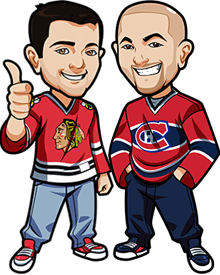 Written by Graeme & Scott on Tuesday, October 2nd, 2018
Follow @BetNHL
Hi guys!
Welcome to the return of the NHL Betting Tips for the 2018/2019 season. Boy have we waited awhile to type that.
Most of you probably know who we are but for those who don't – Scott is the Chicago Blackhawks fan, Graeme is the Montreal Canadiens fan – and boy is that word "fan" going to be tested this coming season.
We've been producing NHL Tips since the 2012/2013 season and have managed to win every season since starting this site. We both live in Kingston, Ontario Canada which is pretty much right in the middle of Toronto, Ottawa and Montreal so it means we get to attand a vast amount of hockey each season and get to see most teams in action live.
We also get together and watch most of the games too. When not watching them together we're chatting about them on the phone or over Whatsapp. Each morning we get on the phone and discuss all of the games that day and come up with tips based on a variety of factors such as how we feel about teams and their recent performances, stats and number crunching, trends, injuries, fatigue etc etc.
Before we dive into the tips to open up this season, here's a couple of quick things to note:
If you're new to hockey betting it's important that you have accounts at multiple sportsbooks to take advantage of bonuses and bet at the best odds. However we know most people like to stick with just one sportsbook. Depending on your country, we'd advise opening a betting account at the following:
Canada: Sports Interaction + $20 Free Money Line Bet.
USA: Bovada.
Everyone Else: Bet365 (Americans: We recommend http://www.bovada.lv.
All 3 provide excellent deposit bonuses, offer up the best odds the majority of the time, and are very user friendly for the new bettor. (Although that Bovada redesign – ugh). If you're looking to bet hockey for the first time online you can't go wrong with the above three.
We don't guarantee a winning season. Hockey is a very high variance sport. It's great we've had six winning seasons in a row but that doesn't mean 7 is guaranteed. It's possible we have a losing season and also likely that we go on stretches of 0-6 or 1-8 in terms of wins. Don't blindly tail us assuming we're going to make you money. Read our analysis sure – but make you own mind up.
Hockey is very high variance. We said it above but we're going to repeat it here. There's no sure things in hockey. So whether it's a pick from us or your own pick that went tits up – take the time to look at it and try and understand why it went wrong. If you made a maximum unit pick on the best team in the league to beat the worst team and the worst team wins 3-0 understand that that sort of thing can happen. You're not an idiot and don't do something stupid like go on tilt and blow your whole bankroll in frustration. Don't also just ignore a night where you lose. Take the time to go back and look over your own reasoning for a bet and see if you missed anything etc. That sort of thing will make you a more profitable sports bettor down the road.
We're very "newb" friendly. The whole reason we started this site initially was to help out our friends who didn't sport bet, knew very little about it and wanted advice and to understand it better. We're happy to help you with any and all questions. The comments get very busy so we advice you e-mail us at betnhl.ca@gmail.com. Seriously – any and all questions whether it be about hockey or about sports betting we're happy to help.
There's gold in the comments. Over the years we've picked up a great community of NHL bettors and each and every night they're making their picks in the comments. There's been many times where we've went 1-2 for the night but ended up making a bunch of money due to some picks in the comments so take the time to read those. And a big hello to all returning and new commenters for the 18/19 season. As always it's a troll free zone – don't be an ass to others posting their bets. If you think they're doing the wrong thing explain why, or ask their reasoning etc.
We bet in levels of confidence. Something we introduced last season. Our picks will be 0.5u, 1u and 2u. 1u is the standard pick that we will use for about 85% of all picks we expect. 2u bets are reserved for when we both feel extremely confident about a pick, and 0.5u is generally reserved for value bets, gut feelings and nights where we don't like particularly like anything but still feel we want to have a play.
It's important to have accounts at multiple sportsbooks. Bonuses are one reason – most sportsbooks give deposit bonuses and will also give you bonuses during the season. For example deposit $100, get a $125 bonus which means your bankroll is instantly $225 (with a wagering requirement). Another reason is odds. We'll list the best odds for each pick we make and where those odds are and we advise following that. Winning $91 over $89 might not seem much on any given night, but it REALLY adds up over the season.
Alright with all that said, let's get into the tips for Wednesday, October 3rd 2018:
Leafs vs Canadiens Betting Tips:
We traveled to Toronto a few times this Summer and one thing we learned is that the season is over with before it's begun – the Leafs are taking the cup. What's even the point of running it out this year?
In all seriousness it's REALLY cool seeing how pumped Leafs fans are. The growth of their franchise over the last couple of years and it's all coming to a head with the signing of Tavares. Regardless of our thoughts of the Leafs or the Leafs fans over the years we're both rooting for them just a bit this year.
It may take time for them to really get going and get everything sorted out but they looked excellent in that pre-season game with the Wings. They have defensive issues for sure but you have to wonder if that's overdramatized just a bit. There were even a few times last season where Andersen looked excellent but they'll need him to step it up a notch.
The Habs look like expected – a beaten team. It's a hurting franchise and Carey Price is coming off his worst season in terms of GAA and Sv%. From the looks of things he's going to set a new worst record this year.
This one just looks like a Leafs rout and we'll bet accordingly. 2u on Leafs -1.5.
Canada: 2.35 Odds at Bet365 (Americans: We recommend http://www.bovada.lv.
USA: +130 Odds at Bovada.
Everyone Else: 2.35 Odds at Bet365 (Americans: We recommend http://www.bovada.lv.
(Odds correct as of 2018/10/02 7:26:20 PM EST but are subject to change.)
Flames vs Canucks Betting Tips:
Canucks are starting a new chapter with the Sedins gone but you don't really get that "bright, optimistic" feeling a new chapter can bring. There is something about them though – watching them in pre-season you can see some signs of life and if they set the lines right they may do some damage. A lot of young guys which carries a lot of risk though and defensively we don't expect to see much improvement.
It'll most likely be like last season – a losing side but one who can pull off some real upsets.
Lot of optimism around the Calgary Flames this year especially with the additions of James Neal and Elias Lindholm. Also a potential nice 3rd line in there as well and that's what they need – more production from the depth. Basically you look at the issues the Flames had last year and they've went out and rectified it.
We like the Flames to get this season off with a win. 1u on Flames to win incl OT/SO.
Canada: 1.79 Odds at 888 Sports.
USA: -125 Odds at Bovada.
Everyone Else: 1.79 Odds at 888 Sports.
(Odds correct as of 2018/10/02 7:26:20 PM EST but are subject to change.)
Ducks vs Sharks Betting Tips:
Ducks are one of those teams with a lot of questions and you have a feeling John Gibson is going to be a busy boy this year.
They're missing Corey Perry which really hurts and Kesler is not expected to play in the opener. Even if he does he won't be at full health. Kase got concussed too. Tricky times for the Ducks and there's a lot of expectations about John Gibson becoming one of the elite over the next few years – he'll get the chance to prove that this season.
The Sharks are a team who give off that cup vibe – they're saying "this is our year" and the signing of Erik Karlsson plus the pickup of Kane at the deadline really cements that.
Sharks are going to be an interesting team as it's not like they're going to be "one and done" – their aging stars still can go and they also have some great potential in the younger players. Sharks fans will be hoping it'll reinvigorate guys like Brent Burns who had a big drop off last season.
We like the Sharks to come out this one strong. The new additions are experienced enough and shouldn't need much time to gel.
1u on Sharks to win in Regulation.
Canada: 2.00 Odds at Bet365 (Americans: We recommend http://www.bovada.lv.
USA: No in regulation odds at time of posting.
Everyone Else: 2.00 Odds at Bet365 (Americans: We recommend http://www.bovada.lv.
(Odds correct as of 2018/10/02 7:26:20 PM EST but are subject to change.)
We have nothing for the Caps/Bruin game. Scott likes the over and said if he was picking a winner he'd pick the Bruins. Graeme would rather wait and see how the Caps peform although was close to going with Bruins too.
Non-NHL Tips will be back as of Thursday.
Follow @BetNHL
BetNHL.ca » Tonights Tips »