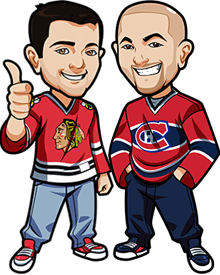 Written by Graeme & Scott on Tuesday, October 3rd, 2017
Follow @BetNHL
Welcome to the NHL 2017-2018 season. The NHL is back as of October 4th, 2017 and we have also returned with your daily free NHL tips.
We'll also be covering KHL, AHL, OHL and WHL throughout the season.
This will be the SIXTH season we have been providing free NHL Tips and we're hoping to have a SIXTH winning season. However there are no guarantees. We say this every season but please don't blindly take our advice. Listen to us sure – but make your own mind up. Read various previews and opinions and decide for yourself.
Last season for example we had 4 straight losing months before turning it around. For us it was okay – we were able to sit back and see where we were going wrong and adjust accordingly. But if you're following blindly, you're not able to do that. So please – don't just blindly trust us. Do your own research too. See if you agree with us or not.
If you're looking to bet on the NHL online, here's a quick table covering the best few sportsbooks:
Best America Sportsbooks for NHL
They're listed in terms of how we'd sign up at each sportsbook. It's recommended you have accounts at multiple sportsbooks. That way you can get the best odds AND get bonuses from each sportsbook.
It's a bit of extra work but it's worth it in the long run – trust us. Every season we probably make about 10-15 extra units due to following the best odds.
Any questions feel free to leave a comment in the comments at the bottom of this post, or e-mail us at betnhl.ca@gmail.com – we're happy to help even if you have complete beginner questions. Don't know what a bet means? Or confused how to bet at an online sportsbook? Ask away!
Here's our thoughts on October 4th:
Leafs vs Jets Betting Tips:
The NHL season is always very tough to make predictions at this time. A lot of our thought process is based on last season. You also never know how a team is going to perform. For example after last year, the Leafs are highly regarded due to their playoff performance. Will that mean they'll come out and dominate the game? Or will they come in over-confident and get caught out?
Honestly taking the first few nights off till you get a feel for things isn't the worst idea in the world. We tend to try and look for value plays at this point. However we're going to go with the Leafs to beat the Jets.
We just think that they are the overall better team, and Babcock isn't someone that will let that confidence ruin things for them. They also didn't make any real drastic changes during the off-season.
Everything looks solid and the defensive pairings look largely intact. This is a team with a lot of depth especially at the back which is going to encourage the players.
We're on Leafs to win.
Canada: 1.95 Odds at Bet365 (Americans: We recommend http://www.bovada.lv.
USA: No odds available yet but we advise Bovada.
Everyone Else: 1.95 Odds at Bet365 (Americans: We recommend http://www.bovada.lv.
Oilers vs Flames Betting Tips:
There's no deep thought about this game – we haven't studied pre-season form extensively to make this pick or anything like that. However in the Battle of Alberta we're taking Over 5.5 Goals.
These two teams are always good for a chance at a high scoring game. We'll throw out "Over 5.5" in this one right away, then discuss it and see if we can argue enough against it to remove it from our bets. We can't do it this time.
The Flames from what we've seen so far – Smith is gonna get lit up! Oilers should dominate them but sometimes the form book goes out the window in rivalries like this. Even when the Oilers rack up the goals the Flames are usually right there with them.
We'll take the Over in that one.
Canada: 1.95 Odds at Bet365 (Americans: We recommend http://www.bovada.lv.
USA: No odds available yet but we advise Bovada.
Everyone Else: 1.95 Odds at Bet365 (Americans: We recommend http://www.bovada.lv.
Other Games:
No bets in the other games. We think the Flyers could be a team that surprises this season and we are concerned about the Sharks – especially with no Marleau. We're tempted by that Flyers line but we need to see them play before we can comfortably bet them. Probably some value on them but it's a bit of a risk.
Blues vs Penguins – such a tricky one. Penguins are excellent at home but on the first game of the season we're not too comfortable betting in regulation or handicaps. Blues are missing a couple of forwards but difficult to really analyze something like that this early on.
Enjoy the night of hockey people. NHL is BACK!
Follow @BetNHL
BetNHL.ca » Tonights Tips »