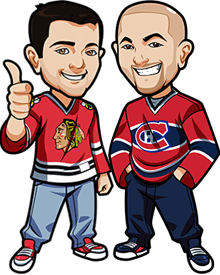 Written by Graeme & Scott on Thursday, October 5th, 2017
Follow @BetNHL
It was a 1-1 night last night with the NHL Tips.
It started off great with the Leafs absolutely thrashing the Jets. That was a funny one as the Jets were all over Toronto to begin with and with 5 minutes left in the period, we were talking about how if the Leafs could just hold it at 0-0 they'd come out strong in the 2nd.
Then they hammer home 3 quick goals and that was all she wrote!
We lost with the Oilers/Flames over. Unfortunately it was a disappointing performance from the Flames, who we expected more fight from. The Oilers were just the better team in every single avenue and played extremely well.
Game of the night was that Blues/Penguins game. And the first big upset in the NHL occurred with the Flyers beating the Sharks. We said yesterday we think they'll be pulling off a lot of surprises this season – but we just weren't comfortable enough betting them this early on. We'll see how things go as the season progresses.
Couple of quick notes – first one, if you're following Graemes KHL Betting Tips. They'll now be merged into the daily NHL Betting Tips posts just like previous seasons with the OHL, WHL and AHL. So if you're looking for KHL, OHL, WHL or AHL Betting Tips they'll be at the bottom of these posts if there is tips that specific day.
Second thing is we can't stress enough how important it is that you get the best odds possible. Take yesterday for example – Leafs were as low as 1.85 at most places, and we had them at 1.95 at B365. That saved us a 0.10 unit loss. That happens 10 times in a season? Suddenly you've saved yourself an entire unit simply by following the best odds.
We'll do the hard work for you – after every tip we'll list the best betting odds. We ONLY list sportsbooks that we actually use ourselves and trust, so you can relax knowing your money is safe there.
For reference, these are the sportsbooks, filtered by country and organized by preference, that we look at odds for:
We're not saying you should stop everything and sign up at each sportsbook or anything – but we'd recommend signing up at least one new sportsbook right now, taking advantage of their deposit bonus and then clearing it when appropriate.
Each sportsbook also gives us a small fee for referring new signups. It's not much, but we use that money when we meet up at a bar to watch hockey to cover beer and wings. We haven't paid for our own beer and wings in about 3 years thanks to you guys. So thank you for that!
Now onto the tips for today.
Rangers vs Avalanche Betting Tips:
The Avalanche were a dumpster fire last season and there really isn't too much hope for them this season. They do have a few solid players like Landeskog and Duchene – surprising he is still here – but there's really not much else going for them. They'll have to hope Varlamov stays healthy.
The New York Rangers are the New York Rangers. They picked up Shattenkirk which was a big one. They have strong lines and although they lost Stepan, they still have a lot going for them.
We're going to take Rangers in Regulation.
Canada: 1.80 Odds at Bet365 (Americans: We recommend http://www.bovada.lv.
USA: -130 Odds at Bovada.
Everyone Else: 1.80 Odds at Bet365 (Americans: We recommend http://www.bovada.lv.
Predators vs Bruins Betting Tips:
The odds for this one surprised us a bit – with the Bruins a favourite. I mean we know the Bruins are a tough team but they're missing Krug, Backes and Bergeron. Those are three big losses to the team.
Honestly at best we could maybe see this one being a pickem. With the odds the way they are, we feel obligated to take the Predators to win.
Canada: 2.05 Odds at Sports Interaction + $20 Free Money Line Bet.
USA: +105 Odds at GT Bets..
Everyone Else: 1.95 Odds at Bet365 (Americans: We recommend http://www.bovada.lv.
Senators vs Capitals Betting Tips:
The Sens are the Rodney Dangerfield of hockey,  they get no respect.  But after the playoffs they had people should really pay attention to them.
The Caps are the Caps.  They will be great on the regular season only to disappear in the playoffs.
The Sens are without Karlsson which will hurt them in this game and the Caps lost Shattenkirk, Alzner and Schmidt so their defense could give them problems this season.
We like this game to go over as both teams are missing some key defensemen and anytime the Caps play they have the potential to go over. The price has some nice value.
Over 5.5
Canada: 2.16 Odds at 888 Sports.
USA: +110 Odds at Bovada.
Everyone Else: 2.16 Odds at 888 Sports.
Close Ones:
Out of the rest of the games, there were two games we came close to tipping but decided not to.
We were going to go with Ducks in regulation over the Coyotes. They're the better team. The risk factor is the Coyotes who made BIG changes during the off-season. Initially we liked that due to possible lack of chemistry – however you never know how that will affect a team. It can change things positively. Also the Ducks have been so inconsisent at times we just didn't feel good backing them here.
The other one was the Wild over the Red Wings. Red Wings didn't ring in the changes like people expected during the off-season. Only negative for Wild is Parise out but that's not a big loss.
We expect to be betting against the Red Wings a lot this season but what's putting us off here is this team will come out fired up with something to prove. Plus it's a new arena for them – you never know how that will affect them.
So we're staying away from advising those two.
OHL / WHL / AHL / KHL Betting Tips:
(All below systems are based mainly on mathematics and statistics with very little human input and are deemed experimental.
OHL Betting Tips: Niagara IceDogs in regulation @ 1.65 odds.
KHL Betting Tips (9-7, +1.24u): Avangard @ 1.90 for tomorrow.
OHL, WHL & AHL & KHL Betting:
Canadians: Bodog and 888 Sports.
Americans: Bovada.
Everyone Else: 888 Sports.
Follow @BetNHL
BetNHL.ca » Tonights Tips »