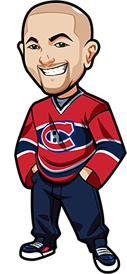 Written by Graeme on Friday, October 5th, 2018
I can't remember the last time a 0.5u play caused me so much joy.
Maybe it was from the losing night the night prior; maybe it was from the way Anderson was performing and stopping so many shots. But I went absolutely ape shit when Kane scored that OT goal in the Blackhawks vs Senators game.
Nice to get a winning night. We also won with our 2.63 treble in the KHL! I almost didn't post that one as it was backing 3 road teams so I'm very pumped that one came in.
Lot of interesting results last night in the NHL. Not much is expected from the Islanders and the Hurricanes dominated them hard – yet Islanders came away with the OT win. Welcome to the world of betting on hockey.
What a performance from the Jets. They're a team I know we'll be backing a lot this season but at 1.90 odds in their first road game of the season I just couldn't take them last night. They performed well and Hellebuyck was excellent.
Bad start for the Knights and it'll be interesting to see if they can pick themselves up. Disappointing performance from Fleury.
After all that action last night there are only two games tonight as the Carolina Hurricanes take on the Columbus Blue Jackets and the San Jose Sharks go up against the LA Kings.
One bet tonight:
Grand Salami: Under 11.5 Goals
The Grand Salami is the total of all goals in one night and then you bet over/under it. So we're betting Under 11.5 goals. That means if the Sharks win 8-0 but the Jackets only win 2-0, then the total is 10 and we win the bet.
In the Jackets vs Hurricanes game, the Jackets have kept Bobrovsky for this one. Bobrvosky didn't look good in pre-reason really but the regular season is a different animal. Plus with Torts keeping him for this more difficult game, it means he has something to prove out there. Goalies are different beasts and you've got to expect he'll be out there looking to do his best.
McElhinney will start for the Hurricanes tonight. His stats have been improving the last two seasons and he actually did pretty darn well for the Leafs so hopefully he's not rusty and his old teammates take it easy on him.
In the Sharks vs Kings game, it's tough to back the Sharks at the moment. I went back and rewatched their opener against the Ducks and they were very unlucky for sure – they were the better team there for the majority of the game. I think they'll be a bit wary tonight. Kings had the best goals against of the laegue last season and I expect more of the same.
Of course this is a high variance pick as it's factoring in two games so we'll go with 0.5u.
You can bet the Grand Salami at http://www.5Dimes.eu(Need to register to see lines)
Non-NHL Betting Tips:
KHL Betting Tips: 0.5u on AK Bars to win at 2.10 odds.
Bet the non-NHL leagues at:
Canadians: Bodog and 888 Sports.
Americans: Bovada.
Everyone Else: 888 Sports.
Best America Sportsbooks for NHL
BetNHL.ca » Tonights Tips » October 5th, 2018 NHL Betting Tips