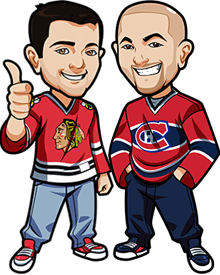 Written by Graeme & Scott on Friday, October 6th, 2017
Follow @BetNHL
That was an absolutely insane night of hockey last night!
Senators vs Capitals had an absolute thriller – what a 3rd period that was. An Ovechkin hat trick helped take it to a shootout where the Capitals came out winners.
The new look Arizona Coyotes blew a 4-1 lead as they lost to the Anaheim Ducks 5-4. That was absolutely brutal.
And then there's the Pittsburgh Penguins!
Was there a glitch in the matrix or something? Did all the playoff goals the Blackhawks missed out on last year suddenly appear here?
We've said it before but man – it'd be so fun to have a time machine, go back in time and tip the Blackhawks -8.5 yesterday just to see the reactions.
What a game that was.
We went 1-2 with our own tips. We won with the over in that Capitals-Senators game as mentioned. We had the Rangers and they lost 4-2 to the Avs with an empty netter in there. That was a hell of a game and props to Varlamov who played really well. That's something the Avs will need going forward – a goaltender they can rely on. If they can have that, that'll be a big help. Those saves on Zibanejad were sick but that dude is going to score a ton this season.
We had the Preds against the Bruins who were missing a few players but that didn't matter for Boston. They deserved to win there as the rookies stepped up big. That was a hard fought victory although the Predators really came off the mark slow.
Tonight is October 6th, and there are just three games on the board. We have just one tip.
Stars vs Knights Betting Tips:
Being frequent visitors to Vegas, we're both extremely excited about the Knights franchise. Graeme has actually adopted them as his 2nd team and already owns a jersey and various other merchandise.
But they're just a bad team.
Don't get us wrong – if you're in the NHL you're a hell of a hockey player. But compared to the rest of the NHL team the Knights just look way behind everyone else skill level wise. And James Neal is out tonight which is quite a loss.
Until they can prove themselves, we've just got to bet against them here.
Stars in Regulation
Canada: 1.75 Odds at 888 Sports.
USA: No in regulation odds up yet but Bovada will have them later in the day.
Everyone Else: 1.75 Odds at 888 Sports.
Othe Game Thoughts
With Stamkos back we'd love to back the Lightning tonight but you have to wonder how being out has affected him. Add in the fact that Panthers vs Lightning games have been notoriously tight over the years and we're not comfortable going with them yet.
Islanders versus Jackets could be a real good game. We're very tempted by the Over 5.5 here. Lot of hype surrounding the Jackets and it's common to see teams like that come up short on the first game. We were very close to backing the over but have decided against it. Bit concerned that with 9 games already going over it's tainting our thought process a bit.
Follow @BetNHL
BetNHL.ca » Tonights Tips »