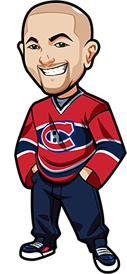 Written by Graeme on Saturday, October 6th, 2018
Follow @BetNHL
Another nice winning night as we hit the under on the Grand Salami with ease.
We had under 11.5 goals and both games went under the expected 5.5 totals. The Hurricanes came out frustrated after that Islanders game and picked up their first win of the season putting three past Bobrovsky.
Sharks still look like they have issues – Kings didn't look great offensively but the Sharks blew a 2-0 lead and had to squeak it in overtime. One of those teams that I'm sure will be blowing teams away at some point this season but we're going to be patient in regard to when we bet them. It's a long season – no need to blow our load immediately.
Sorry for the delay today – was watching Quintet 3 this morning. Great show especially 10th Planet vs Polaris. That was just incredible.
Before I go any further – the MLB playoffs have started and my buddy Vin over at BetMLB.org is KILLING it. He started the playoffs with an 8-1 record with his betting tips. If you're not following his tips, be sure to head over to BetMLB.org now. He does great and detailed write-ups too.
It's Saturday in the NHL which means a ton of games – starting with the Oilers vs Devils early on. We have the Battle of Ontario, Habs vs Penguins, Knights vs Wild and the Flames will be looking for revenge against the Vancouver Canucks.
A good day of hockey and it'll give us more knowledge of the teams. This is my favourite part of the season – watching every game, studying all the stats and metrics and getting early impressions.
Also can I just say how much I am loving life right now? You've no idea how much fun I had spending my Saturday morning discussing hockey betting, analyzing it all, looking at the stats, watching some highlights etc. Win or lose – man I love this shit.
Ottawa Senators vs Toronto Maple Leafs Betting Tips:
Whenever this game comes up the first thing we look at is the over and if we're going to back that. Always a big rivalry with the form book thrown out the window.
The answer is yes – we are.
These two teams usually have fiery games. Both have poor defenses. In their opening games both Anderson and Andersen made a string of saves yet they still conceded a bunch.
Ottawa are being written off to a ridiculous degree in the media at the moment and they're going to come out motivated. They're missing Karlsson and that's obviously going to hurt them defensively but offensively they looked fairly solid in the first game.
Leafs defense doesn't look great as expected and really the Leafs had a BAD game on Wednesday yet still scored the goals.
I'm very close to going 2u for this one but I'm a bit concerned about how the Leafs performed against the Habs. Nylander is a bigger loss than I thought and I want to see some better transitions from them before I feel more confident.
Over 6 Goals incl OT/SO – 1u
Canada: 1.86 Odds at BetOnline..
USA: -115 Odds at BetOnline..
Everyone Else: 1.86 Odds at BetOnline..
(Odds correct as of 2018/10/06 1:27:04 PM EST but are subject to change.)
Pittsburgh Penguins vs Montreal Canadiens Betting Tips:
There was a time where betting the over in a game involving Carey Price just seemed crazy. Based on his performance against the Leafs – it might end up being a silly bet. He made some elite saves in that game. Problem is the Habs defense is so bad that he HAS to make those saves and make them night in, night out and so that may negate his talents.
His record against the Penguins is quite poor in comparison with other teams he goes up against. In 28 games he has a .905 save percentage and 3.05 GAA.
We know the Pens offense. We saw what they are capable of. The Habs offense showed some signs of life in the Leafs game. Like I said it's just one game but I really dug the play of Domi and it looks like he's going to fit in well. They played a fast paced game and if they do that again tonight it should bring in the goals.
Over 6 Goals incl OT/SO – 1u
Canada: 1.87 Odds at Sports Interaction + $20 Free Money Line Bet.
USA: -110 Odds at BetOnline..
Everyone Else: 1.83 Odds at Bet365 (Americans: We recommend http://www.bovada.lv.
(Odds correct as of 2018/10/06 1:27:04 PM EST but are subject to change.)
Winnipeg Jets vs Dallas Stars Betting Tips:
The Winnipeg Jets took a little bit to get going in their opener but after they did? Goddamn. Look out. It helps that they have a beast between the pipes as well.
Stars had a solid little performance against the Coyotes and shut them out but this is a big change in opponent quality. The Jets looked confident after they got going and just looked unstoppable.
They've won the last 8 games in a row against Dallas and I like them to make it 9. They're a team that I think you're always going to be confident backing – they're just going to go from strength to strength.
Despite that, I'm a bit concerned about the quantity of shots Hellebuyck saw. That plus Bishop snagging the shutout to give him that confidence and we'll do a smaller bet.
Winnipeg Jets to win incl OT/SO – 0.5u
Canada: 1.91 Odds at Mr. Green
USA: -115 Odds at Bovada.
Everyone Else: 1.91 Odds at Mr. Green
(Odds correct as of 2018/10/06 1:27:04 PM EST but are subject to change.)
Follow @BetNHL
BetNHL.ca » Tonights Tips »