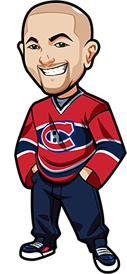 Written by Graeme on Saturday, October 7th, 2017
Follow @BetNHL
The Vegas Knights got their franchise off to a winning start unfortunately for us, with a 2-1 victory over the Dallas Stars.
Of course the game went as we expected. The Stars looked the better team and the more dangerous team. They hammered the Knights goal with 35 shots in the first period and Fleury had to step up to make a few huge saves.
Bishop then got injured and Lehtonen stepped in – and promptly proceeded 2 goals in his 15 minute shift. That was just lovely.
Overall it appeared to be the right bet and it just didn't work it out on the night. That's sports betting for ya.
We move onto Saturday, October 7th 2017 with a big slate of games. It's always tricky at the start of the season because you want to be conservative but it's so hard not to make big betting decisions based on just 1-2 games.
Oilers vs Canucks Betting Tips:
We're going to take the Edmonton Oilers to win in regulation. The odds for them to win including overtime/shootout are still good enough if you want that extra safety net, but when we back favourites we're always looking at that in regulation bet.
The Oilers were a step above Calgary in every single way in the opener. Now a lot of that could just be the Flames – but the Oilers looked a truly elite team. They just went about and did the business matter of fact.
The Canucks should be a fun team to watch this season. Probably no pressure on them so they can go out and have some fun. However the Oilers should dominate them tonight.
Canada: 2.17 Odds at BetOnline..
USA: +100 Odds at Bovada.
Everyone Else: 2.17 Odds at BetOnline..
Rangers vs Leafs Betting Tips:
The Leafs offense look like they're going to be ridiculous this season – they look hungry. They scored 3 goals quickly against the Jets on their opener but didn't give up – they were still hunting for blood.
We expect that a lot this season.
Rangers will come out wanting to make up for their opening game loss to the Avs. Lundqvist has clearly regressed as a goalie and we think there are going to be a good amount of goals in this one.
The line is unfortunately at 6 so we're banking on 7 goals for a win. It's a lot but the Leafs put that up by themselves a couple of nights ago so here's hoping their offense is still out there rocking.
Over 6 Goals incl OT/SO
Canada: 1.95 Odds at Bovada.
Everyone Else: 1.90 Odds at Bet365 (Americans: We recommend http://www.bovada.lv.
Be careful if you bet at 888. They list over 5.5 at 1.76 odds but that's only in regulation time.
Other Game Thoughts:
The Coyotes are just too heavy favourites for us to back them against the Knights. We're hoping to back the Coyotes a few times this season and we saw a lot of positives about the Ducks but the way they allowed them to get back into the game was very concerning.
Penguins vs Preds you'd THINK would have a lot of goals but that line of 6 is fairly high and after that Penguins game the other night we're going to stay away.
The Minnesota Wild are very tempting. The Hurricanes are highly favoured in that one mostly due to hype. But if you look at last season the Canes were great at home. The Wild were impressive on the road. It's not one we can fully advise but if you're looking for some confirmation bias on betting the Wild – we'll give it to ya.
Follow @BetNHL
BetNHL.ca » Tonights Tips »