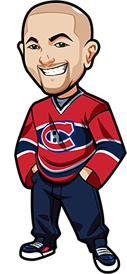 Written by Graeme on Sunday, October 7th, 2018
Follow @BetNHL
Happy Thanksgiving to all the Canadians out there. Just another excuse for me and Scott to go to a family function, hide outside and get obscenely drunk. A great tradition.
Well a 1-1 night for a slight profit which I'll take as the Habs/Pens game pushed and our lost was the 0.5u play.
We had Over 6 goals in the Battle of Ontario game and what a 2nd period that was. Not the best start for the Leafs as they go up against two of the teams with the lowest expectations and struggle to beat one, then lose against the other. Awesome stuff for the Senators and there's no rest for the wicked as the Leafs hope to bounce back tonight in Chicago.
Our loss was with the Winnipeg Jets against the Dallas Stars and that was insane. Just a disaster from the Jets and so disappointing. They looked to be a team you could back with confidence but NOPE – confidence shattered after one game. I'll be looking to back any solid PP teams against them as their PK is ass.
We pushed in the Habs/Penguins game as the Habs blew the Pens away 5-1. Now you might think that was a shock but one commenter, Western Rattlers, posted this last night:
Not going with the Pens again, because historically this is a trap situation especially so with the Pens; a smug, top-talent team with a closet full of silver cups vs a bottom-feeder. Pittsburgh fans in the stadium will be more interested in drinking and joking. Pens may not wake up for this game, not take this seriously, and while Montreal can't score much, it can score any time against an unmotivated or unfocused team. Habs will be motivated, if nothing else is in their toolkit, they have adrenaline in front of a frustrating goalie.
Absolutely amazing call that and one reason I love the comments. Always so many great insights like that.
Nashville went 2-0 last night and those are the type of wins of a championship team. I don't feel they are playing anywhere near the best at the moment and of course a lot of the early games are scrappy with teams playing above themselves, but they're getting the wins and that's what counts at the end of the season.
Good to see the Knights get back on the winning track. Felt bad for Arizona as Gibson pulled off 41 saves to shut them out. Ducks are going to be a tough team to beat this season if he keeps playing like that.
What a PPV UFC 229 was. It's a pity the Khabib vs Conor stuff is overshadowing the highlight of the show – Derrick Lewis with his epic win out of nowhere followed by the greatest post match interview ever. "My balls were hot". Amazing.
Hurricanes vs Rangers Betting Tips:
After a very unlucky loss against the New York Islanders due to puck luck, the Hurricanes bounced back strong the night after with a 3-1 victory over the Jackets. They've now had a day of rest and go up against the New York Rangers. Rangers played last night and lost 3-1 to Buffalo.
I think fatigue will be an issue for the Rangers. A back to back this early in the season and losing against Buffalo despite working hard.
You can't write the Rangers off. I thought they did a decent job against the Preds and last night it was special teams that was the difference. But I think this is a great spot for the Hurricanes to get the win. Despite losing Darling they're looking confident and their goaltending and defensive work is good.
1u on Hurricanes to win in Regulation
Canada: 1.86 Odds at 888 Sports.
USA: -130 Odds at Bovada.
Everyone Else: 1.86 Odds at 888 Sports.
(Odds correct as of 2018/10/07 10:47:05 AM EST but are subject to change.)
Follow @BetNHL
BetNHL.ca » Tonights Tips »