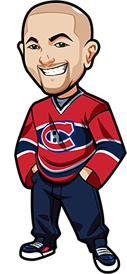 Written by Graeme on Thursday, October 6th, 2022
Follow @BetNHL
Welcome to the beginning of the NHL season!
Well sort of.
I mean it really doesn't all kick off until next week. I really don't feel the season has started until we get that Leafs vs Habs opener.
We do have Predators vs Sharks on Friday and Saturday with both games in Europe. I always feel a bit iffy about backing games like that, but at the very least I wanted to get a post going and get some analysis.
It's a bit awkward timing as I'm away all next week too but we'll make it work. Just frustrating as I won't be able to watch any games and am going to have to rely on highlights for the first week.
With that let's look at the Preds vs Sharks game:
Predators vs Sharks:
The Predators come in as heavy favourites with the over/under set at 5.5. The sportsbooks except it to be a rough season for both teams really.
The Predators have looked good in pre-season. I mean I never really factor that in, but this does seem like a team looking to hit the ground running. In saying that, Sharks looked great as well.
Last season, the Preds dominated the Sharks in matchups. There's been a lot of changes in San Jose both on and off the ice. Predators really just enhanced their squad and getting Forsberg on the long contract was nice.
I pretty much wrote off the Sharks in my season preview. Scott also wrote that he thinks the Preds are a team that could surprise.
On paper? Preds in regulation is the bet I like. With the location, I'm not advising it and it's not an official tip. If the in regulation odds were 2.00 or above, I think I could advise it as it factors in that potential randomness. Alas that is not the case.
I have some stuff to test out though in regard to listing the best odds, so here are the best odds for Preds in Regulation:
Ontario: 1.86 Odds at Bet365 (Americans: We recommend http://www.bovada.lv
Canada: 1.86 Odds at Bet365 (Americans: We recommend http://www.bovada.lv
USA: Nowhere seems to have odds yet but BetOnline. is generally best for in regulation.
Everyone Else: 1.86 Odds at Bet365 (Americans: We recommend http://www.bovada.lv
(Odds correct as of 2022/10/06 9:56:36 AM EST but are subject to change.)
I likely won't be back to write about Saturdays game. Not much to write about other than to recap the previous game. II do like to bet the opposite result on those B2Bs and will probably do that for the heck of it. So you can use this post to discuss both games.
Follow @BetNHL
BetNHL.ca » Tonights Tips »