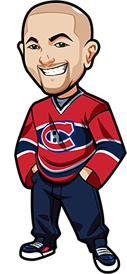 Written by Graeme on Thursday, October 8th, 2015
Follow @BetNHL
We start the season off with a 2-1 night, although whew was it a nervy finish.
We had the Rangers to win, and Under 5.5 goals. So it was 3-2 and a Blackhawks empty net for what seemed like FOREVER! Then you had that insanely close attempt by the Blackhawks that just hung on the line under Lundqvists leg, as well as Rangers coming so close with an empty netter. Holy moley.
Must admit I woke my kids up with my screaming and yelling when that game ended 3-2. What a thriller of a game.
Our loss was the Habs vs Leafs Over, as they could only get 4 goals. Disappointing as it started so well with Montreal scoring on their first shot of the game just 3 minutes into it. Then the Leafs scored in the 2nd just 19 seconds in. But neither team could follow up, and really both goaltenders had excellent nices. Especially Price who stopped 36 of 37 shots.
Leafs fans should be happy though as despite the result, there was a lot of positives. Will be interesting to see how they can play when they are trying to protect a lead though.
And not an official tip but we said we'd take the Canucks in the Canucks vs Flames game and they duly delivered. Very curious to see how both teams follow that up.
So it's Thursday, October 8th and we've got 7 games on board tonight. The debut of Connor McDavid is expected at St. Louis. The pressure that guy is under is unreal, and I wish him the best.
$25 risk free bets on player prop, in-game bet and $50 risk free mobile bet. Available for NEW customers only at BetOnline.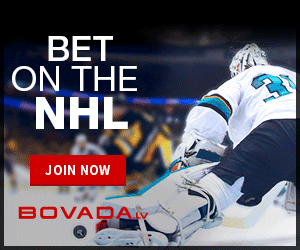 Sabres vs Senators Betting Tips:
Call me crazy – but I like the Buffalo Sabres this season. I think they've made a lot of good moves, and I think they have the potential for a very explosive offense. Jack Eichel is an excellent pickup who only has to deal with local pressure as opposed to the type of pressure McDavid will be dealing with. Lehner will be coming into this with something to prove.
Anderson is in the net for the Senators tonight – and you have to wonder how they will do this season. A playoff team last year but purely due to the heroics of Hammond, and a sick 23-4-4 finale to the season.
I've went back and forth on this one. I'm going to take two bets – which is always fun when it backfires. I'm going with Over 5 goals because the Sens offense really got rolling last year and I hope they can continue that. And also Sabres to win at 2.10 odds. Maybe I'm strangely biased with the Sabres but I do think this is the fresh lineup they need and that they'll be coming into the season motivated.
Bet at http://www.5Dimes.eu for Americans(Need to register to see lines) and and http://www.Bet365.com for everyone else..
$25 risk free bets on player prop, in-game bet and $50 risk free mobile bet. Available for NEW customers only at BetOnline.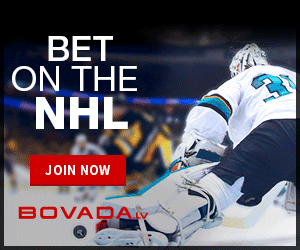 Oilers vs Blues Betting Tips:
I get the feeling we'll be betting a lot of Overs this season with the Edmonton Oilers and this game is no different. 2 of the 3 games the teams played last year went over. Oilers are the Oilers. Stacked on offense with some great lines – and possibly the most hilarious goalie situation in the entire NHL.
On the other side you have Tarafreakingsenko. Their top line is just stacked, and McDavid playing should give this an even bigger atmosphere than normal.
Over 5.5 goals at 2.05 odds at Bovada for Americans and http://www.Bet365.com for everyone else..
Other Games Thoughts:
Bruins vs Jets: Lot of changes in Boston. Funny to hear most sports pundits in Canada who are basically like "Yeah I want to say the Jets are good, I want to say they can make the playoffs – but I can't". And I get that. They did it last year and looked great – but they're a team it's hard to count on. I'd stay away from this one and see how things go for these teams over the next few games.
Penguins vs Stars: I hate games like this because with the offenses both teams have it seems crazy to ever go with the under – yet in their two matchups last season they went Under 5.5 Under 5.5 is 2.05 odds at Bovada for Americans and http://www.Bet365.com for everyone else. too so even though it's very possible this could be a 15 goal thriller – Under 5.5 is probably the slighest value bet. I personally wouldn't touch it though because both offenses will be pumped and Stars goalies can be so streaky. Maybe if it goes to something really high like 2.25.
Flyers vs Lightning: Hard not to see the Lightning taking this one. But I do wonder if the Stamkos contract situation is going to affect things. With Tyler Johnson struggling from injury even if he does play – just a couple of question marks that leave me playing it safe here. If you're going to take the Lightning though may as well take them in regulation.
Hurricanes vs Predators: Two teams that I really want to see play before making some calls. I'd lean towards Under 5 but not too happy with it this early in the season.
Wild vs Avalanche: I really, really want to tip the Avs here. But I get the feeling we're going to see a real streaky team again who can win or lose a game at the drop of a hat. A lot of these games will be toss-ups and I'm seeing 2.00 everywhere. Just don't think it's worth the risk at this point.
.
Follow @BetNHL
BetNHL.ca » Tonights Tips »