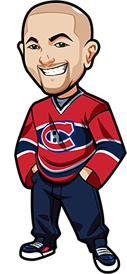 Written by Graeme on Wednesday, October 9th, 2019
Follow @BetNHL
It was the night of the road teams last night with 7 out of the 8 road teams winning. The only exception was the San Jose Sharks. Who we of course picked.
It was also the night of teams getting their first wins of the season, with 2 of the 3 teams recording their first W. The only exception was the San Jose Sharks. Who we of course picked.
Good stuff!
It was an overall disappointing performance from the Sharks. There were glimpses of the team that we expected to see but they also made some silly mistakes, and their offensive work looks off. They were the most predictd team in our poll to record their first win at 34% as well. Kings were just 12% but got that hard fought win over the Flames.
Thanks to everyone who is participating in the polls. Just a fun thing we thought we'd try this year and it's neat coming up with questions and seeing the answers.
Whenever something like "almost all road teams win on a night" hits I always have to drop everything and analyze. As immediately I think "Is this a trend? Is it because it's early season and teams aren't weary about travel yet?". Always have to look and consider any potential edge (such as when the parents come to watch). A quick glance at last years data suggests that isn't really the case – but I know that later on today I'm going to be spending an hour analyzing away win % in the first couple of weeks of previous seasons compared to the rest of the season just to see if there is anything.
We're a week into the NHL season now. We'll most likely expand our tips from here on out to more than just one although we'll still be a bit wary. For me anyway – there's still a lot of teams with real question marks over them. I mean the Flyers have only played one game.
Tonight we have three games as the Habs head to Buffalo, the Devils seek their first win in Philly, and the Kings head to Vancovuer.
I'm very, very tempted by the Canucks tonight. First home game and they are a team I still fancy. After the way the Kings game went last night I think Kings start hot but end up flat. However Green is probably going to make some adjustments to try and get the top line production going, and I'm not sure how it'll work out. Plus they're around 1.66 odds which is just brutal. I do hope they can get it going though.
It's a weird night as even though my Habs are playing, the two teams I'll be rooting for are the Devils and the Canucks. Just one of those things where looking at everything off-season and then analyzing the teams prior to the season beginning, they jumped out as teams I want to do well this season.
Canadiens vs Sabres Betting Tips:
I'm surprised the line is only 6 goals on this one. Maybe the sportsbooks expect Kinkaid to have a big game. Sabres have been decent defensively so far but the Habs offense look electric too.
Buffalo play at a great pace and I like the Habs to match them. This should be a fast paced game. Habs have been able to battle it out with two of the best offensive teams in the NHL in terms of production with the Leafs and Hurricanes so I think they can do that with Buffalo.
Sabres so far have the best xGA/60 stats in the league at 1.33 so that's a concern. That was one of the cons about the Sharks pick yesterday – that the Preds had a very low xGA/60 as well. However I am digging this Habs offense. Plus they have the highest xGA/60 so maybe the Sabres will do all the work for us.
The last few clashes between these teams have been good ones and I'm hoping that will continue with a solid competitive battle. The xGA/60 stats at this point have me juuuuust concerned enough to only do a half unit bet.
0.5u on Over 6 Goals incl OT/SO
Canada: 1.88 Odds at BetOnline..
USA: -115 Odds at Bovada.
Everyone Else: 1.88 Odds at BetOnline..
(Odds correct as of 2019/10/09 8:45:42 AM EST but are subject to change.)
[poll id="5″]
Non-NHL Betting Tips:
Written by Graeme
(All below systems are based mainly on mathematics and statistics with very little human input and are deemed experimental. Use at your own risk.)
Swedish Hockey League Betting Tips: Orebro HK to win. 1u, 1.80 odds.
Finland SM Liiga Betting Tips: 0.5u on Lukko -1.5. 1.95 odds. Marginal play.
Where To Bet the Non-NHL Leagues:
Canadians: Bodog and 888 Sports.
Americans: Bovada.
Everyone Else: 888 Sports.
Quick Laugh:
One thing we always do before deciding on tips is read up blogs, forums, subreddits, community tips sites etc to see their opinions. Often there is something that you aren't factoring in that you can consider and it will help in terms of commiting to a bet or the unit size.
There was one I read today on the Sabres-Habs game that man – I just have to share some of. It went from the most robotic writing to the most ludicrous. It was from a writer on Blogabet and here are some excerpts:
[after listing the Habs roster] This is the preliminary composition of Montreal for today's match. As we know, the victorious roster does not change, and there are no injured ones, so 95% percent, today we will see these combinations in the match against Buffalo.
Undoubtedly, the attack remains the strength of today's Montreal, it is due to it that the team has the right to count on this year's Play-Off.
Buffalo scored fantastically 10 goals in the first two matches against New Jersey and Pittsburgh, but they absolutely rightly lost their extreme duel to the Jackets from Columbus.
Team leader Jack Aikel did not score a single point,
Buffalo spent much more of his home fights all his life. And then there's a rival to match.
I'm sure the "hubs" will come out relaxed after defeating their eternal rivals, but Buffalo, on the contrary, will want to rehabilitate himself for failing in an extreme match against Columbus.
Just amazing. Anyway I am off – let's hope the "Hubs" record a 4-3 win tonight in this extreme matchup!
Follow @BetNHL
BetNHL.ca » Tonights Tips »