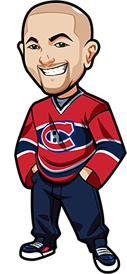 Written by Graeme on Tuesday, May 31st, 2022
Follow @BetNHL
Both conference finals are set. The New York Rangers had a big road victory over the Carolina Hurricanes in Game 7, to progress to the next round where they will face the Tampa Bay Lightning.
That one will kick off tomorrow and we will have a preview for it tomorrow morning. Lightning will be loving all that rest they were able to get, I expect.
Tonight we see the Oilers vs the Avalanche. A lot of excitement over this series with MacKinnon versus McDavid so let's hope it pans out and we get some great games.
Here are our thoughts:
Avalanche vs Oilers Series Bets:
Scott: The Avs beat the Preds in 4 games in round 1 and the Blues in 6 in round 2. The Oilers beat the Kings in 7 games in the opening round and the Flames in 5 in round 2.
The played each other 3 times during the regular season with the Avs winning the series 2-1.
McDavid is playing out of his mind. He and Draisaitl lead the team with 26 points each. MacKinnon also has three ability to take over games.
This series will feature lots of offensive talent and should be a fun one to watch.
I have to go with the Avalanche to win this series. They can match the offense of the Oilers, have home ice and a more reliable goalie. Smith has been good but he is prone to having rough spells and if and when the Avs start to light them up do they switch to Koskinen or ride it out.
Avalanche in 6
Graeme: It's funny how things work. While it shouldn't be a factor in my predictions or bets – I predicted the Edmonton Oilers to win the series against the Flames. That was a big 2.70 odds win which puts me at 7-3 for +5.94u profit for series predictions. Based on that, in my head I feel like I am freerolling and wish to back the Oilers just based on that.
Before we consider that though let's look at the metrics of the games they have played.
It's a bit tricky to be honest looking at this data as it's all late in the season when the results and performances didn't matter as much. That 6-3 win by the Oilers came during a 4 game losing run for the Avs. They lost 6 out of 7 and they just didn't seem to care.
When you look at the previous two games – Oilers matched up well with them on the advanced metrics on 5 vs 5. If we go by all strengths, Oilers had one great game and one very bad game.
Avs however in the playoffs I haven't been super impressed by. They have relied on two big goalie injuries to help them through. Looking at teh advanced metrics – Avs are playing a lot better and what is really impressive is their CA/60 and FF/60 stats. Both teams are overperforming in terms of goals scored.
So basically when I look at the metrics the big thing for me is the Avs. An HDCA/60 of just 8.32 for example, compared to the Oilers 13.71. This basically suggests the Avs are going to limit the chances the Oilers are going to get. In saying that they haven't faced a team with as much offensive electricy as the Oilers yet.
Looking at the Blues series – they managed to get the Blues Corsi down from 60-70 to mostly the 40s.
Oilers did struggle with the Kings when they really shouldn't have. Flames – man sorry Calgary fans but they were just trash.
I'm not sold on the Avs right now honestly. But I do think they are a big step up in opposition for the Oilers and I'm not sure if Edmonton has what it takes. I just don't think their offense will find it as easy as they have in previous games.
As much as I would love to back the Oilers and feel like I'm freerolling – I gotta go with:
Avs Win which would be Avs -1.5.
B365 seem to have the best odds at about 1.83.
Follow @BetNHL
BetNHL.ca » Tonights Tips »