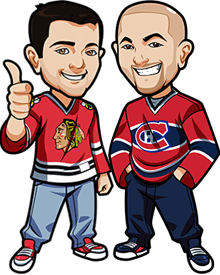 Written by Graeme & Scott on Monday, February 17th, 2014
Follow @BetNHL
Well that was an exciting and unexpected round robin portion or the 2014 Olympic men's hockey.
There wasn't as many goals scored as was original expected but still lots of exciting action that took place.
Sweden won all three of their games in regulation and ended the round robin in first overall. The United States and Canada also won all three of their games but both teams needed overtime to win one of the games and since the States scored more goals than Canada they are ranked 2nd and Canada 3rd. The other team earning a bye for the first round was Finland who won 2 and lost one in overtime.
So the qualification round is tomorrow with the winners moving on to play the teams who earned a bye. #8 Slovenia vs #9 Austria, #5 Russia vs #12 Norway, # 7 Czech Republic vs # 10 Slovakia and #6 Switzerland vs #11 Latvia. So some amazing hockey will be taking place and which team will be this year's Cinderella team and surprise the hockey world? Who knows but it will be fun to find out
Sorry for no tips the last couple of days guys – but honestly, betting the Olympics is hard!
You have so little data to go on, and if you pay attention to the sportsbook lines you see even they're struggling. Often they'll set up a big point spread only for it to be a 1 goal affair. Then they'll have a team -1.5 and they'll blitz their opponents by 6 goals.
Look at tomorrow's lines for example. For any value betting Russia over Norway, you have to bet Russia -3.5 at -125 odds. But do Russia really possess the ability to run up the score? On opinion? Yes. On the facts from the games so far? No.
Then you have Switzerland -425 to win the game but -130 odds on the -1.5. Switzerland results thus fare are 1-0, 0-1 and 1-0. Latvia couldn't score against the Swiss, but scored twice against the Czechs and 3 times against Sweden.
We've been debating all morning about this. Hell – we debated about Saturdays and Sundays games as well. Both of us have conflicting opinions about some of the games – but we do share one opinion – we don't feel comfortable offering official betting tips. Not with the variety of the spreads, or the difference in opinion vs fact.
Now both of us love to bet – as I'm sure you all do. We bet to make money, but we also bet just for pure entertainment purposes. So with that in mind, what we are going to be doing is presenting a list of what each of us are betting, and our opinions for it. Sometimes we may share the same opinion, sometimes we may conflict. Either way – hopefully it steers you towards the right bets to make.
Graemes Olympic Hockey Betting for February 18th, 2014:
My first bet is Switzerland -1.5. Switzerland have been very tight in the back. Goal differential however is not a factor anymore. So Latvia can afford to play more and push up more. I like Switzerland to remain tight, and punish Latvia with some quick breakaways. I can also foresee Switzerland 1-0 up until the last couple of minutes, where they nab an empty netter to win the spread.
I'm also going with Russia -3.5. The Russians need to show what they are capable of. They need to get the confidence going. Norway are the worst team in the tournament in my opinion. If Russia are going to win big, this is the one to do it.
Finally I'm going for Slovenia -1.5. This is a high odds pick of +250 – I could play it safer and go -115 for the win. But I really don't rate Austria at all. Canada and Finland destroyed them, and Slovenia got the 3-1 win over Slovakia, who I rate higher than the Austrians for sure.
I'm betting all of these at Bovada for Americans and http://www.Bet365.com for everyone else. both as singles, and a treble.
Scotts Olympic Hockey Betting for February 18th, 2014:
My first tip is Switzerland vs Latvia Under 4.5 goals. Switzerland only scored 2 goals in their 3 round robin games and during those three games there was a combined 3 goals scored by them and their opponents. They already beat the Latvians by a score of 1-0 and beat the Czech by the same score. They lost their game to Sweden, the #1 ranked team after the round robin, but held them to 1 goal losing 1-0. The trend of low scoring games involving Switzerland will continue in this one.
Next I am going with the money line bet of Austria over Slovenia. Slovenia did surprise in the round robin by beating the Czechs but when your only NHL player is Anze Kopitar they did overachieve. Austria has some good talent on the wings with Thomas Vanek, Michel Grabner and Michael Raffl all of who are NHLers and Vanek and Grabner are stars in the league. And the odds are too good to pass up on here with a money line win for Austria paying out at 1.90.
My last tip is Over 4.5 goals in the Czech vs Slovakia game. This is going to be a good game between the teams who once formed the nation of Czechoslovakia. Both of these teams have star power and both want to show the rest of the Tournament that they are far better than their round robin results would suggest. Although my tip for this game is Over 4.5 I am also betting Slovakia to win this game and the money line betting odds for that is 2.80
I am betting all of these at http://www.5Dimes.eu for Americans(Need to register to see lines) and and http://www.Bet365.com for everyone else. and am also going to parlay them all and laugh as Graeme and I have a side bet going and the loser picks up the tab for a steak dinner
Follow @BetNHL
BetNHL.ca » Tonights Tips »