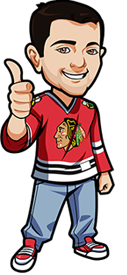 Written by Scott on Thursday, September 29th, 2016
Follow @BetNHL
With the season starting soon a fun bet to make is Over/Under for wins by a team. It will make you root for or against a team during the season depending on what you picked.
You get a number for each team and you job is to predict if the team will have more or less wins than that number.  So if a team has a number of 41.5 you have to predict if they will have 42 or more wins for Over or 41 or less for Under.
Always a good long term bet – both for fun and some value.
Graeme has already covered 5 teams and now it's my turn.  Below I will go over 5 teams with my thoughts on each and a prediction.
Best America Sportsbooks for NHL
Toronto Maple Leafs: 36.5
The Leafs are still in the middle of a rebuild so to expect them to turn things around all because of one player is crazy.
Sure the drafted Austin Matthews and Nylander and Marner look to be future Stars in the league. Andersen is an improvment in net but unless he's Patrick Roy then he is in for a long season.
The had 29 wins last year and I'm sure they will pass that number.  But to have 37 wins is going to be a stretch and I don't see it happening. 
Canada: Sports Interaction.
USA: Bovada.
Everyone Else: Pinnacle Sports
Detroit Red Wings: Under 41.5
They were once the model franchise to mold your team after but age has caught up to them .
Datsyuk is now in Russia.  They added some players to try and fill the shoes he left behind but few in the league can.
They had 41 wins last year and are go8ng to be fighting for a playoff spot this time around
Canada: Sports Interaction.
USA: Bovada.
Everyone Else: Pinnacle Sports
Ottawa Senators: Under 44.5
This one is a no brainer for me.
The Sens are going to struggle this year.  They swapped Zibanejad for Brassard and brought back Chris Kelly.  When that's all you did to your roster during the offseason then this team is really banking on their youth to take a huge step forward.
Last season the had 38 wins.  I don't see a 7 win improvement for this club.
Canada: Sports Interaction.
USA: Bovada.
Everyone Else: Pinnacle Sports
Buffalo Sabres: Over 35.5
The Sabres are a young team who has gotten better the past 2 years.  I don't see them taking a step backwards this season.
Eichel is a true superstar and they added Okposo to help the top 6.  They also added Kulikov on the backend.  Their goalies are a bit of a question mark for this season but Lehner will be the starter.
The hit 35 wins last season and will pass that number this year.
Canada: Sports Interaction.
USA: Bovada.
Everyone Else: Pinnacle Sports
Washington Capitals: Over 49.5
What a year the Caps had last year.  They ran away with the Presidents Trophy and have obly gotten better since.
Kuznetsov lead the team in scoring which is unreal considering they have Backstrom and Ovechkin.  The added some depth to the bottom 6 and Holtby is arguably the best goalie in the league.
Last year they had 56 wins.  That's an incredible number and even if they don't hit 56 this year I don't see 50 being a problem.
Canada: Sports Interaction.
USA: Bovada.
Everyone Else: Pinnacle Sports
Follow @BetNHL
Best America Sportsbooks for NHL
BetNHL.ca » Tonights Tips » Over/Under Regular Season Wins Part 2