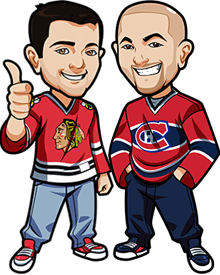 Written by Graeme & Scott on Thursday, April 26th, 2018
Follow @BetNHL
First of all – major props to the Toronto Maple Leafs last night. The Boston Bruins were an incredible team throughout the regular season and had turned TD Garden into a fortress, so it was even more impressive that the Leafs forced that series to 7 games and almost won the series. And hey – thanks for giving Graeme the Bruins series win AND the Over 6 yesterday!
The Leafs have a bright future ahead of them and they'll be doing some shopping for defence during the off-season we expect. If they pick the right guy, they might just be a contender next year.
We move onto round two of the playoffs and holy crap – every single series is exciting.
We've got Bruins vs Lightning – the two best teams in the East. We've got Predators vs Jets – the two best teams in the West. We've got the old rivalry of the Penguins vs Capitals, and finally we've got Sharks vs Knights – both of whom sweeped the first round.
I can't remember the last time we were this excited for this round of the playoffs. Every single series can really go either way and it's going to be amazing to watch.
As always we'll provide our series betting tips and then we'll break down each game from then on.
Two series start tonight and we'll cover them here. In terms of the previous series and who progressed, Graeme only got one wrong(Ducks) and Scott got two wrong (Leafs,Kings).
Penguins vs Capitals Series Betting Tips:
Scott: Well as it seems, no playoffs would be complete without a Caps – Pens showdown
The Pens have beat the Caps in three straight years in the playoffs so wants makes this year any different?
The Caps had a rough start to their first round series against the Blue Jackets going down 2-0.  They regrouped and came away winners. 
The Pens won their series 4-2 but it wasn't an easy series for them.  When they won they won with ease.  When they lost they did so by giving up lots of goals.
If the Caps are to make a series of this they will need to score and if any team can do that it's Washington.
But it's the Pens experience that will go a long way in this series.  I hope I'm wrong but I like the pens to move in again.  Not sure if you have heard of him but Crosby is kind of a good player.
Penguins in 6
Graeme: The Penguins beat the Flyers 4-2 to get here and the Capitals beat the Jackets 4-2 to get here.
The Penguins are a tough team to call. I mean they were clearly the better team and had some dominating wins over the Flyers, but there's still a lot of issues there. I think they're going to struggle against the top tier of teams.
However I don't put the Capitals in that top tier. They're a damn good team but the Jackets caused them a lot of issues. To their credit however every game was close.
This should be a good series and the Malkin injury is concerning. However I do think Penguins will get it done and I agree with Scott – Penguins in 6.
BetNHL.ca Tip:
Bet the Pittsburgh Penguins to win the series. Best odds for this are at:
Canada: 1.83 odds at Bet365 (Americans: We recommend http://www.bovada.lv.
USA: -120 odds at Bovada.
Everyone Else: 1.83 odds at Bet365 (Americans: We recommend http://www.bovada.lv.
Sharks vs Knights Series Betting Tips:
Scott: I'm still not sure what to think of the Knights.  It has been an amazing story and has been a blast to watch but when does this Cinderella story end?
They out worked the Kings in the first round and did the same throughout the regular season.  I want the Knights to win but how long can this go on for?
I can't bet against them against a Sharks team that has their best days behind them.
I hope I'm wrong as I think other teams deserve it more than a first year squad.
But with the way the handled the Kings in round one I have to back them until they prove otherwise.
Knights in 5
Graeme: Both teams sweeped to get here. The Sharks sweeped a Ducks team that just never really seemed to show up. The Knights I was more impressed by as they sweeped the Kings despite Quick being in the freaking zone. They worked hard, they had some high creativity when it came to the offense and Fleury stepped up too.
I just don't know what to think.
Everything about the Knights and their play in the regular season and playoffs thus far indicates that they should dominate this series. Yet it's the Knights – it's still hard to really take in.
After thinking about it – I'm going to bet with my heart on this one. I've become a huge fan of the Knights throughout the season and they're the team I want to win so I'll live and die by the sword.
Knights in 5
BetNHL.ca Tip:
Bet the Vegas Knights to win the series with a -1.5 handicap. Best odds for this are at:
Canada: 2.65 at Casumo
USA: +160 odds at Bovada.
Everyone Else: 2.65 Casumo
Follow @BetNHL
BetNHL.ca » Tonights Tips »