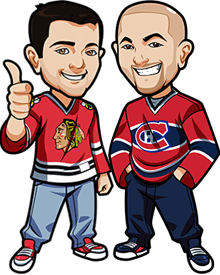 Written by Graeme & Scott on Wednesday, May 31st, 2017
Follow @BetNHL
The 2017 Stanley Cup playoffs got off to quite an interesting start with a very weird game.
The Pittsburgh Penguins came out of it as 5-3 winners however they were held to just 12 shots on goal the entire game including a 37 minute period with zero shots on goal.
Rinne, who only had 2 save percentages in the playoffs going below .900 so far, had a .636 save percentage. That was only the second time all season he went below .700. That was the worst save percentage he has recorded since the 2013-2014 season when he put up a .500 against the Blues.
It makes for a very intriguing game 2 in Pittsburgh. It's a massive game for the Preds and you have to wonder if another loss would mentally break them. You also have to wonder if Rinne is going to bounce back strong from that one.
Here are our thoughts:
Predators vs Penguins Game 2 Betting Tips:
Scott: Game 1 was strange.  The Pens scored 3 times in the first period but were held without a shot in the 2nd.  They blew the 3 goal lead but managed to come away with the 5-3 win.  Rinne was off in this game allowing 4 goals on only 11 shots.
Game 2 should see the teams adjust.  Im sure the Pens will have more shots on goal than the 12, which was the lowest shots on goal by a winning team in the Stanley Cup finals ever,  and I'm sure Rinne will look better this time out.
I'm not sure whos going to win this game but I think the Preds will have a stronger effort.  As always with the Preds they get big contributions from their defense so for tonight's game I expect some from Subban  who had an assist in game 1.
Subban to get a point  for 2.10 odds at 888 Sports
Graeme: The Penguins really haven't did anything yet to show me they're going to steamroll the cup. When they first got Murray back I thought that may be a huge factor for them however he still clocked up a loss against the Sens and then struggled against Nashville in Game 1.
The Preds have shown they are a very strong team and despite the injuries they had a very solid Game 1 performance. Rinne is an experienced goalie and I don't think he's going to "choke" as they like to say.
I'm taking Predators to win.
Follow @BetNHL
BetNHL.ca » Tonights Tips »