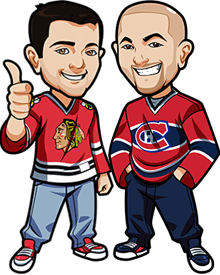 Written by Graeme & Scott on Thursday, June 8th, 2017
Follow @BetNHL
It's Game 5 of the Stanley Cup 2017 finals and both teams are tied at 2-2.
Both the Penguins and Predators have won their games at home.
Tonight we see the Pittsburgh Penguins host Nashville. The Penguins have won 9 of 12 games in the playoffs at home, while the Predators have a 5-5 road record.
They desperately need that to be 6-5.
The Predators need to win at least one road game – simple as that. Doing it tonight is obviously what they want as it would give them the biggest advantage. After two big victories over the Penguins, do they have it in them?
Penguins vs Predators Game 5 Betting Tips:
Scott: The Preds will need to find a way to win in Pittsburgh.  This series is now a best of 3 with the home teams winning the first 4 games. 
The Preds have the momentum of winning 2 in a row where the Pens are home where they haven't lost yet in this series.  The Pens have moved their lines around and the have Sheary back with Guentzel and Crosby for the "Sid and the Kids" line.
I really can't back anything for this game.  I'm not confident in the game going over and both teams could win this game.
I'm going to avoid betting on this game and just enjoy what's sure to be a great game to watch.
No Bet
Graeme: It's been an interesting series. When I look at Game 1 and Game 2 I don't know if I can say that the Penguins deserved to win. Not that the Preds did either. However Game 3 & Game 4 I feel like the Preds deserved to win.
So overall I'd say the Predators are the better team so far in the cup. The Penguins have their superstars but they're not producing like they should be. I mean just look at the Golden State Warriors for how a team with superstars SHOULD produce.
I think there is value on the Predators tonight. I just feel they've been the better team and if Rinne had performed in those first 2 games we wouldn't have a tied series. Preds with the momentum goiing here and surely Rinne is out to try and prove something.
If the Predators are going to beat the home ice advantage it's got to be here. I just can't see them doing it in Game 7. So in what I feel is the biggest game of the season for them, I'll take Predators to win.
Follow @BetNHL
BetNHL.ca » Tonights Tips »