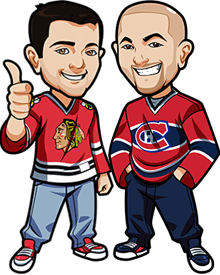 Written by Graeme & Scott on Sunday, June 11th, 2017
Follow @BetNHL
The 2017 Stanley Cup Finals could end tonight.
The Nashville Predators will be hoping the home ice favouritsm continues tonight as they host the Pittsburgh Penguins. All 5 games have been won by the home team with the last 4 won decisively.
They had an absolutely atrocious performance in Game 5 when they needed it most, causing Rinne to get pulled early on. After a couple of weak games the Penguins came to play.
If this is the end we just hope it's at least a competitive game.
Here's our thoughts on what is possibly the final game of the 2017 season:
Penguins vs Predators Game 6 Betting Tips:
Scott: Wow what just happened?  How the Preds won their 2 games in a row at home to get destroyed 6-0 in the next game is crazy.  This series has been won by the home teams for each game.  So that would mean that it's the Preds turn right?
As much as I want this series to go 7 games and the Preds to wi  the cup I'm not sure it will happen.  The Penguins had scoring from all of their big stars.  Crosby had 3 assists, Malkin had a goal and an assist, Kessel had a goal and 2 assists and Guentzel had an assist.  With all their stars flying at the moment and the huge win coming in the last game, I have to back the Pens in this one.  And I also picked the Pens in 6 so no backing out now.
With a win tonight the Penguins can become the first team to win back to back Stanley Cups since the Red Wings did it back in 1997-1998.  So let's enjoy.
Penguins to win incl OT/SO  for 2.20 odds at Bet365. Americans bet at Bovada.
Graeme: It was nice for the Nashville Predators to screw me one last time in the season. I'd complained at the end of the regular season that they cost me the most money throughout the season by losing games that looked like easy wins – so it was nice for them to give me one last humiliation.
At this stage in the season it's hard to find value for money. I still like to bet but I'll usually find "win win" bets to make – bets where regardless of the outcome I'm happy.
So that's what I'm doing here. I want the Nashville Predators to win. I want a Game 7 with everything on the line for both teams. Therefore I'll bet the Pittsburgh Penguins to win incl OT/SO. That way if they win well hey at least I made money. If the Predators win then we get that Game 7.
From an actual tipping perspective I'd just stay the hell away. Regardless of the Predators last performance home ice has ruled here and it's hard to argue against it.
Follow @BetNHL
BetNHL.ca » Tonights Tips » Penguins vs Predators Game 6 Betting Tips