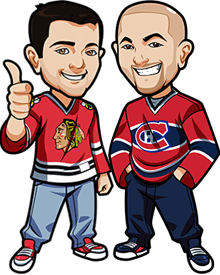 Written by Graeme & Scott on Thursday, May 10th, 2018
Follow @BetNHL
For those that missed it, we posted our Capitals vs Lightning Series Betting Tips yesterday.
That series kicks off tomorrow and while we will not be doing game by game tips until Game 2. In saying that, backing the over in Game 1 is probably the best bet. That series has the potential to have a lot of high scoring games and we could see the line moved to 6.5 for most of them. Might as well get in now while the odds are quite good.
For today we'll focus on the Jets vs Predators Game 7. It's been a fascinating series. The Jets have twice "blown" it at home in the sense that they had the chance to take a 3-1 lead to Nashville, then had a chance to win the series at home in Game 6 and got blown out 4-0.
Can they pull themselves together and win in Nashville for a 3rd time in this series? All 3 games in Nashville have been favourable for the Jets with them winning twice and losing once in double OT.
Jets vs Predators Game 7 Betting Tips:
Scott: What a series this has been.
This has been a series where the teams have traded wins up to this point.  Neither team has won consecutive games in the series. So if that holds true than its the Jets turn to win.
It should come as no surprise that this series has been so good and close as these were the two best teams in the regular season so it seems fitting that it would go to game 7.
As for picking a winner I can't.  This has been to close for me to predict.  I will however be picking the game to go over.  These teams can't afford to leave anything out there as it's lose and your season and chance at the Cup are over.
Over 5.5 incl OT – 1u  
Graeme: I really do hope the Jets win this one but I can't see it.
When they've had to, the Preds have been all business. Look at that Game 6 against the Avs where they cleaned their clocks. This series hasn't been pretty but this was a hard fighting team in Game 2 who would not give up as they weren't going to go to Winnipeg down 2-0.
Then look at the last game. They had to win and they went out and did it with a beautiful 4-0 winning shutting out the Jets. That was the first time the Jets have been shut out since December 16th.For reference, the Jets were shut out just once more during the season – in November against the Sharks.
To me that's huge. Now the Jets are a goddamn good time and I stopped tipping the Preds in the regular season because I was always wrong on them – but I gotta take the Preds here.
The odds aren't good enough when including OT – best is 1.66 so I'm gonna go with a smaller play on the riskier one. 0.5u on Preds in regulation.
Follow @BetNHL
BetNHL.ca » Tonights Tips »